Golden Dragon Fuel Cell Buses Delivered to Datong and Jiashan for Operation
2020-12-03 Source:www.chinabuses.org
Summarize:On December 2, 100 units Golden Dragon fuel cell buses officially went off the assembly lines Soon, they will be delivered to Datong, Shanxi province and Jiashan, Zhejiang province for operation
On December 2, 100 units Golden Dragon fuel cell buses officially went off the assembly lines. Soon, they will be delivered to Datong, Shanxi province and Jiashan, Zhejiang province for operation.
In October last year, Jiashan opened the first fuel cell bus route in Zhejiang province. Golden Dragon 8.5-meter fuel cell buses have thus been in smooth operation for over one year.
Thanks to its advanced technologies, Golden Dragon fuel cell bus is highly reliable and highly efficient. After a refill in just 10-15 minutes, it is able to drive over 500 km continuously.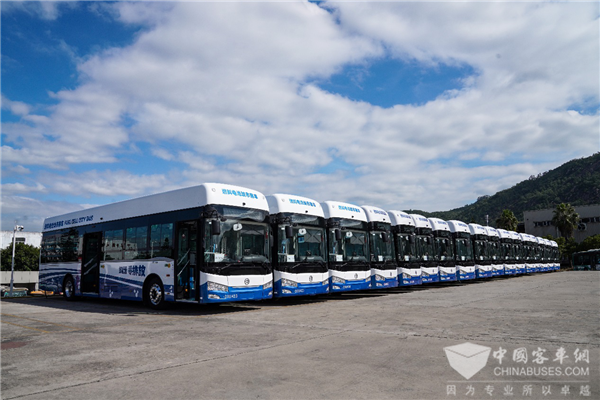 As one of the pioneers in China's fuel cell bus industry, Golden Dragon set up a special R&D team in 2010 to develop fuel cell buses. In 2016, the bus maker rolled out its first generation fuel cell buses. In September, 2017, Golden Dragon fuel cell buses started operation in Xiamen and Shanghai. In 2018, the bus maker was in charge of a new energy vehicle development project launched by China's Ministry of Science and Technology.
So far, Golden Dragon has already built its own fuel cell laboratory and 100 kw fuel cell engine testing platform. Plus, it has made a number of technological breakthroughs, greatly pushing forward of sound development of the industry. Currently, the bus maker boasts a wide range of fuel cell buses, which are operating smoothly in major cities across China. In 2019, it secured a deal of 100 unit fuel cell buses with a total value of 148.6 million RMB from Jieshan, Zhejiang, a deal of 186 units fuel cell buses with a total value of 368 million RMB from Nanhai District, Foshan, Guangdong, and a deal of fuel cell buses for commuting services from Wuhan, Hubei.
On September 29 this year, Golden Dragon signed a strategic cooperation agreement with Tan Kah Kee Innovation Laboratory, Xiamen University. According to their agreement, the two parties will carry out in-depth cooperation in developing fuel cell buses.
As China is making gradual and steady shift from fossil fuel energy to hydrogen energy, 36 cities across the country have already made the pledge to develop hydrogen energy. So far, 17 cities, including Beijing and Zhangjiakou have already built some hydrogen energy pilot projects. It is also revealed that China has already built 74 hydrogen refilling stations. By the end of this year, the total number of such stations will exceed 100. According to Wang Hewu, deputy secretary of China EV100, the number of fuel cell vehicles in operation will approach 10,000 units by the end of 2020. The gross output of the industry will break one trillion threshold.
Editor:Lucy
Related China Bus News