Golden Dragon Polestar Electric Citybus: More Than Just a Bus
2020-11-06 Source:www.chinabuses.org
Summarize:Measuring 8 8-meter in length, Polestar electric citybus, which is the very first model of Golden Dragon's Polestar series, represents a huge step forward for China's bus-making industry
Measuring 8.8-meter in length, Polestar electric citybus, which is the very first model of Golden Dragon's Polestar series, represents a huge step forward for China's bus-making industry.
Unlike other citybuses, Polestar is more accessible thanks to its streamlined body structure and is particularly designed to better integrate to the urban landscapes in the 21st century.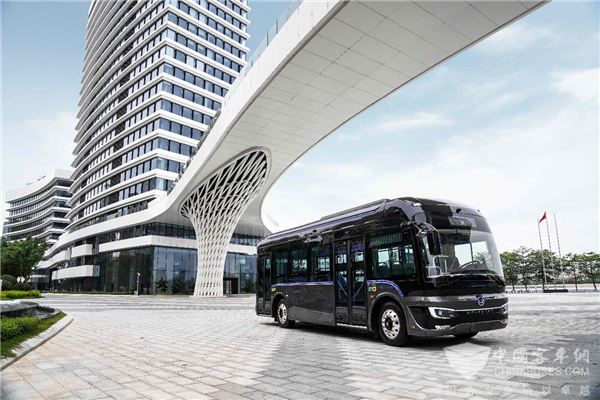 Trial operation data show that the wind drag is only 0.43 when Polestar is driving at a speed of 60 km/h. By introducing special glass for its window and improving its lighting system, the citybus boasts a futuristic appearance.
As the public transportation industry across the world continues to attaching growing importance to safety, travel comforts and environmental friendliness, Polestar has a low-floor access, making it more passenger-friendly for the aging population. All handrails on board, which are suspended in the air, gives passengers more standing space and further facilitates passengers' movements.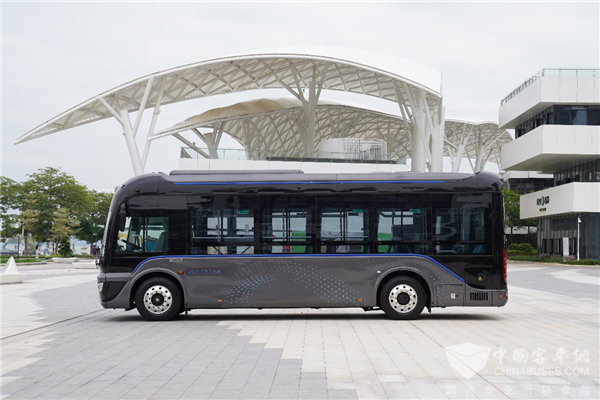 Polestar's seating and floors help the bus create a more comfortable traveling environment and are easier for cleaning. By introducing aluminum alloy materials for its ventilation pipes, handrails, driver's cabin door and wheel ring, the bus has successfully cut its weight and thus is able to cut its energy consumption by over 10% compared with its predecessor. At 2020 EB-PAC China New Energy Bus Competition, Polestar, which only recorded an electricity consumption of 44.48 kWh for 100 km, won Best Energy-saving Bus Award and Best Performing Bus Award, beating all other bus rivals measuring between 8 to 9 meters in length.
To further improve passengers' travel experience, Polestar adopts a shorter front suspension, a longer wheelbase and whole flat floor plan. With a body less than 9-meters in length, the bus is able to reach a passenger loading capacity of a 10.5-meter city bus. With expanded window glass areas and blue lighting, it creates a much more comfortable traveling environment for passengers.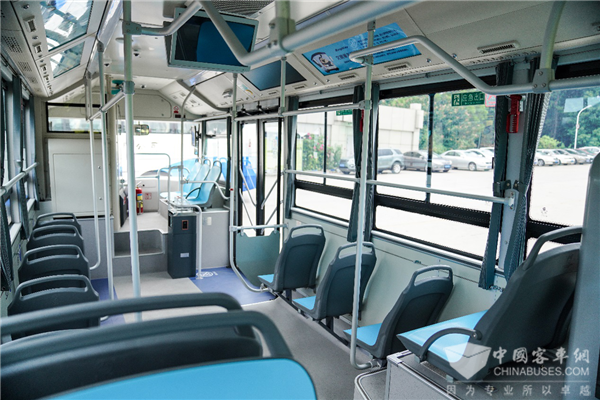 One of the biggest highlights of Polestar is its unparalleled flexibility. According to Golden Dragon, the bus can have vending machines or storage cabinets at its rear, helping bus operators diversify their business.
In order to create a more comfortable working environment for bus drivers, Polestar is mounted with ergonomically designed driver's seat, touch screens and advanced digital technologies. Through its monitoring system, drivers can make quicker responses for starts or stops at bus stations.
With rearview mirrors, electronic rearview mirrors inside the bus and panoramic view system, Polestar provides bus drivers full knowledge of traffic conditions and effectively avoid blindspots for them.
Equipped with Baosteel lightweight high-strength steel monocoque structure and upgraded battery systems, motor systems and electric control systems, Polestar reaches a protection level of IP68. Powered by CATL's lithium iron phosphate batteries, the bus achieves unprecedented safety standards thanks to its state-of-art battery monitoring systems, battery insulation technology, lane deviation alarming systems, front collision alarming systems, driving fatigue alarming system, tyre pressure monitoring systems, emergency flat tyre safety device, etc.
Editor:Lucy
Related China Bus News