King Long to Deliver 1,200 Units Kingwin Electric Logistic Vehicles to Customers
2020-11-05 Source:www.chinabuses.org
Summarize:King Long will supply 1,200 units Kingwin electric logistic vehicles to its customers On the same day, the first batch of 50 units Kingwin electric logistic vehicles were handed over to them, ready to help more cities combat air pollutions
On November 1, King Long officially signed a sales agreement with Fujian Landhigh Logistic Service Co., Ltd. (hereafter referred to as Fujian Landhigh) and Fuzhou Jizhi Automobile Rental Co., Ltd. (hereafter referred to as Fuzhou Jizhi). According to the agreement, King Long will supply 1,200 units Kingwin electric logistic vehicles to its customers. On the same day, the first batch of 50 units Kingwin electric logistic vehicles were handed over to them, ready to help more cities combat air pollutions.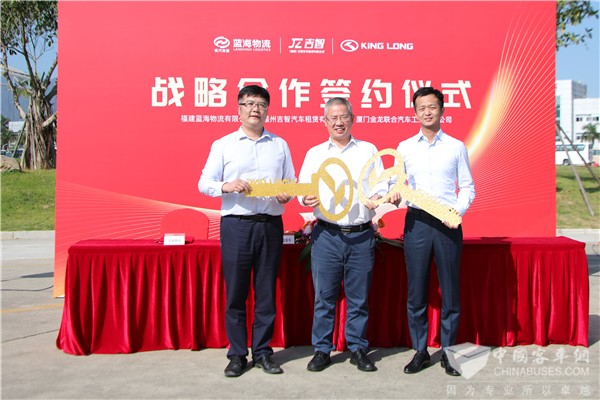 After making its debut in June this year, Kingwin electric logistic vehicle is expected to reach a total sales volume of 200 units by the end of this year. Particularly designed for urban logistic services, the vehicle is built on the huge success of King Long's Kingwin light bus. Measuring 1,700 mm in width, 5,300 or 5,340 mm in length, it has a height of 1,965 mm, 2,055 mm or 2,255 mm. Thus, it boasts a storage space ranging from 6.8 m³ to 8.2 m³.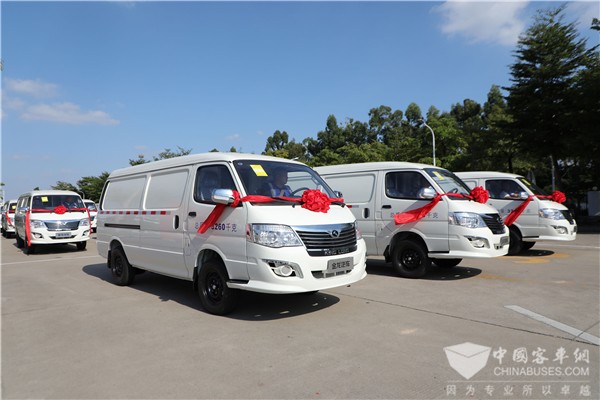 Equipped with CATL's lithium iron phosphate batteries, Kingwin electric logistic vehicle can have a power storage of 50.232 kWh or 41.86 kWh depending on customers' preferences. In addition, it has fast- and slow-recharging portal for power refills.
At the 5th China New Energy Logistic Vehicle Competition held recently, Kingwin electric logistic vehicle won six major prizes, including the Golden Prizes for The Best Continuous Driving Distance and The Best Braking Performance, as well as Technological Innovation Prize, Vehicle of Recommendation Prize, Highest Customer Satisfaction Prize and Highest Drivers' Rating Prize.
As one of the leading players in China's new energy vehicle industry, King Long is fully committed to pursuing an innovation-driven development mode for the industry. Having already accumulated rich experience and established a formidable presence in this promising area, it is playing a critical role in promoting green transportation.
As a subsidiary of Fujian Motor Industry Group Co., Ltd., Fujian Landhigh is specialized in providing professional logistic services and has already built a well-connected service network. Fuzhou Jizhi is committed to promoting the commercialization of new energy vehicles and has expanded its business to new energy vehicle rental services, new energy vehicle financing services, new energy vehicle after-sales services, new energy vehicle management services, etc. By working closely with the two companies, King Long will take full advantage of their strengths and resources and realize more sustainable development.
Editor:Mark
Related China Bus News