15 Units Golden Dragon Luxury Travel Coaches Delivered to Guizhou for Operation
2020-07-16 Source:www.chinabuses.org
Summarize:On July 9, Golden Dragon officially delivered 15 units tailor-made luxury travel coaches (10 units Triumph large-s
On July 9, Golden Dragon officially delivered 15 units tailor-made luxury travel coaches (10 units Triumph large-sized coaches and 5 units Splendor mid coaches) to Guizhou Shengtong Xiangrui Travel Co., Ltd. (hereafter referred to as Shengtong Xiangrui).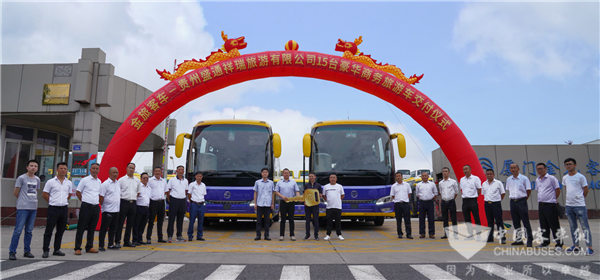 With 2+1 and 1+1 seat layout, Golden Dragon luxury coaches provide more spacious room for passengers. With head-pillows and softer seats, passengers enjoy first-class cabin facilities, including USB portals, a water dispenser, a multi-media player and a wireless blue-tooth speaker.
In addition, all the 15 units Golden Dragon luxury coaches adopt light-weight design, monocoque structures and Baosteel 700Mpa high-resilience steel. Thanks to advanced ABS+ESC, AEBS, lane-deviation alarming system, anti-collision system, and auxiliary light system, etc., they achieve higher safety standards.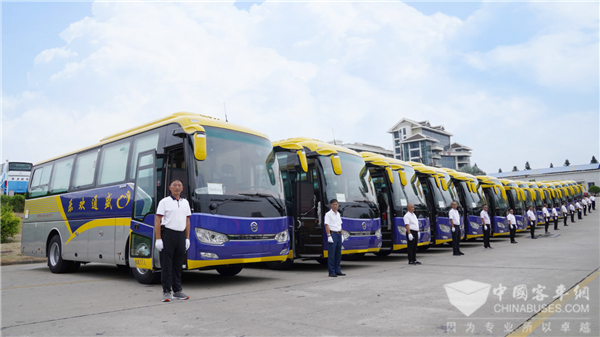 "Our business was greatly affected by COVID-19 this year, but we are now confident that the market is going to recover soon and we will continue to target the high-end group tourists market", said Xu Wei, General Manager of Shengtong Xiangrui. "Throughout the whole R&D process, Golden Dragon's engineers and bus experts have been in close contact with us, offering us detailed suggestions on engines, chassis, lamp layout, etc.," added Mr. Xu.
As one of the major privately owned enterprises in Guizhou's tourist transportation market, Shengtong Xiangrui boasts about 150 units travel coaches and enjoys a solid reputation in the local market. Currently, it has 40 units Golden Dragon luxury coaches in operation.
Editor:Mark
Related China Bus News