King Long Buses Serve China's Two Sessions
2020-05-26 Source:www.chinabuses.org
Summarize:On May 21, China's National People& 39;s Congress (NPC) and China's People's Political Consultative
On May 21, China's National People's Congress (NPC) and China's People's Political Consultative Conference (CPPCC) officially kicked off their annual sessions (also known as the Two Sessions) in Beijing.
As one of the leading bus makers in China, King Long has been serving China's annual two sessions for over two decades. This year, like many years in the past, King Long Buses were designated to serve delegates from all over China.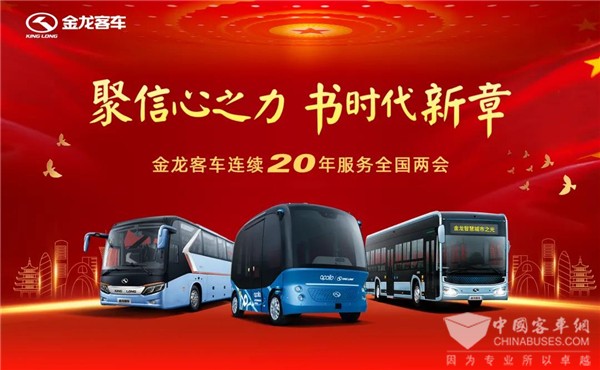 Despite the COVID-19 pandemic, King Long has already made impressive achievements in the first four months by delivering 213 units luxury Buses to Saudi Arabia and 363 units Buses to Saudi Arabia and Chile.
To effective contain the fast spread of COVID-19, King Long has been working against the clock and has so far delivered 118 units negative pressure ambulances this year to support Hubei and other provinces in China. Moreover, it has delivered 100 units ambulances to Yichang, which were donated by Fujian Provincial Government. In early April, the bus maker donated eight units negative pressure ambulances and four units intelligent epidemic-prevention working stations to Fuzhou and Xiamen.
On April 27 this year, King Long was selected by China's State Council as one of the Pioneering Enterprises for Technological Innovations, fully demonstrating its commitment to playing a leading position in the world's bus manufacturing industry.
Editor:Mark
Related China Bus News