Foton AUV Special School Bus to Provide Safe Trips for Students
2020-04-15 Source:www.chinabuses.org
Summarize:Recently, Qinghai, Yunnan and other provinces, municipalities and autonomous regions announced the date for the reo
Recently, Qinghai, Yunnan and other provinces, municipalities and autonomous regions announced the date for the reopen of schools.
To prevent the potential spread of COVID-19 and ensure the smooth resumption of classes, Foton AUV rolled out a brand new school bus with upgraded facilities and National VI Emission Standards. With more spacious room, more powerful performances, higher energy efficiency, higher safety standards and higher environmental friendliness, the school bus is set to provide safer and more convenient transportation services for students.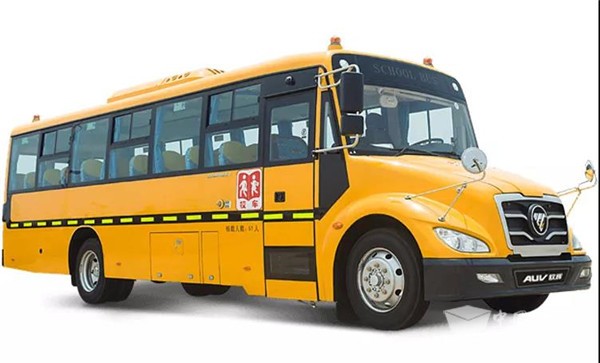 1) Higher energy efficiency
The new Foton AUV school bus has adopted lightweight materials with lower wind drag. In addition, its powerful driveline helps the vehicle perform better on slopes and achieve higher fuel economy and longer durability. The bus is ready to cut the operation costs further for bus operators.
2) Higher quality standards
Thanks to the state-of-art manufacturing technologies, such as automatic painting and electrophoresis, the new Foton AUV school bus boasts a reinforced body structure with extra layers of protection for passengers on board.
3) Higher safety standards
The new Foton AUV school bus has introduced intelligent monitoring platform, which helps parents track their school kids. In addition, the vehicle is equipped with lane deviation alarming system, front collision alarming system and panoramic viewing system. So far, it has successfully passed rollover and collision tests, reaching Five-star Safety Standards.
4) Higher health standards
As China will soon implement the National VI Emission Standards, Foton AUV has sped up its pace in enhancing the overall health standards of its vehicles. Apart from introducing new interior materials, floor materials, noise-reduction materials, and fire-proof materials to more health-conscious passengers, the vehicle has also adopted super efficient air filters and ultraviolet disinfection system and thus is able to effectively contain the spread of viruses.
According to Foton AUV, its new school buses will soon be put into services at a number of kindergartens, primary and secondary schools across China.
Editor:Mark
Related China Bus News