The 14th Great Influence to China Bus Industry Held Online, Attracting 400,000 Participants
2020-03-21 Source:www.chinabuses.org
Summarize:On March 18, the 14th Great Influence to China Bus Industry was held in Beijing and broadcast live online The event was jointly organized by chinabuses com and the Urban Public Transport Branch of China Civil Engineering Society (CCES)
On March 18, the 14th Great Influence to China Bus Industry was held in Beijing and broadcast live online. The event was jointly organized by Chinabuses.com and the Urban Public Transport Branch of China Civil Engineering Society (CCES).
Chinabuses.com is chiefly devoted to connecting bus manufacturers and bus operators. Great Influence to China Bus Industry, which has been held for 14 consecutive years, is committed to better serving customers and creating more values for them. "Through holding the event, we aim at making customers voice heard and promoting the application of state-of-art technologies in the bus making industry", said Mr Wu Yongqiang, the Chief Editor of www.chinabuses.com.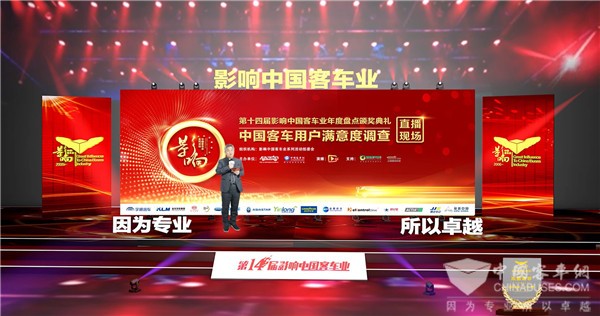 Cohosted by Yutong, King Long, BYD, CRRC Electric, Asia Star, Yinlong, Chang'an, Good Year, Cummins, Dongfeng Cummins, Skywell, Aipu China, etc., the event has won great supports from many bus operators across China, including Aoyun Group, Jinlin Public Transport, Xinjiang Public Transport, Guangxi Public Transport, Fujian Public Transport, Jiading Public Transport, Foshan Public Transport, Shijiazhuang Xinganxian, Huzhou Public Transport, etc. Statistics show that about 400,000 people attended this year's event online.
After a six-months-long survey of bus customer satisfaction, buses of outstanding quality, bus makers with unparalleled services, innovations and new technologies all stood out in four major sectors, including electric buses, bus innovations, customized buses, bus brand influence. "By conducting the survey, we have gained new insights from our customers. By reviewing the achievements made in the past year, we are better prepared to face new challenges in the coming year", said Wu Yongqiang, Editor-in-Chief of chinabuses.com.
The biggest highlight of Great Influence to China Bus Industry this year is special attention has been paid to the latest trends in new energy buses, 5G connected buses, self-driving buses, fuel cell buses.
Along with the further integration of Internet and technologies, China bus industry has been undergoing transformative changes, creating new business modes, such as customized transportation services. Also, the public transportation market has become much more diversified with fast growing demands for business coaches, travel coaches, urban-touring buses, school buses, tour buses, intercity buses, mini-buses, light buses, etc.
In recent years, electric buses, internet-connected buses, intelligent buses, and bus sharing have all become the new normal. The year 2019 witnessed the arrival of some innovative technologies and vehicles.
With ambitious plans to go global, bus makers in China made tremendous progresses in their business expansion in the overseas market. At this year's Great Influence to China Bus industry, the Top 10 News Events in China Bus Industry, China Bus Brand Achievement, The Best Bus Employer, The Best Bus Service in China were revealed to the public.
Editor:Isabella
Related China Bus News