40 Units Zhongtong Buses Equipped with Weichai Hydrogen Power Solutions Start Operation in Jinan
2019-11-27 Source:www.chinabuses.org
Summarize:On November 24, a grand ceremony was held to mark the official operation of 40 units Zhongtong buses equipped with Weichai fuel cells in Licheng District, Jinan, the capital city of Shandong province Over 200 distinguished guests, including Ling Wen, Vice Governor of Shandong Province and Wang Zhonglin, secretary of CPC Jinan Committee, witnessed the historical moment
On November 24, a grand ceremony was held to mark the official operation of 40 units Zhongtong buses equipped with Weichai fuel cells in Licheng District, Jinan, the capital city of Shandong province. Over 200 distinguished guests, including Ling Wen, Vice Governor of Shandong Province and Wang Zhonglin, secretary of CPC Jinan Committee, witnessed the historical moment.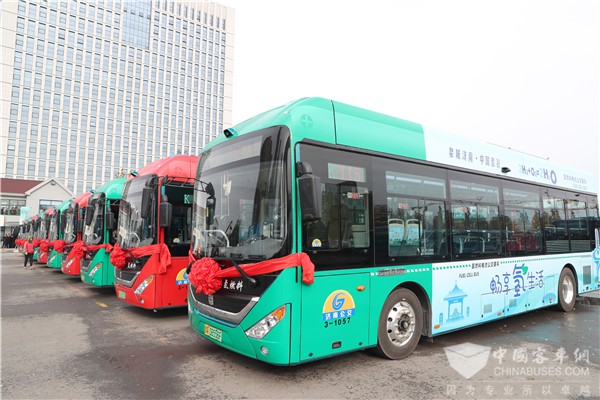 According to sources, all the fuel cells equipped on Zhongtong buses have gone through a number of stringent tests in low & high temperatures, and durability tests. Zhongtong fuel cell bus is able to drive over 350 km continuously. Such an achievement is the result of joint efforts of Weichai and Zhongtong.
With the growing demand for new energy buses, Shandong has already built four hydrogen refilling stations and launched seven hydrogen powered bus routes in Weifang, Liaocheng, Jining, and Jinan with the total number of fuel cell buses in operation exceeding 100 units.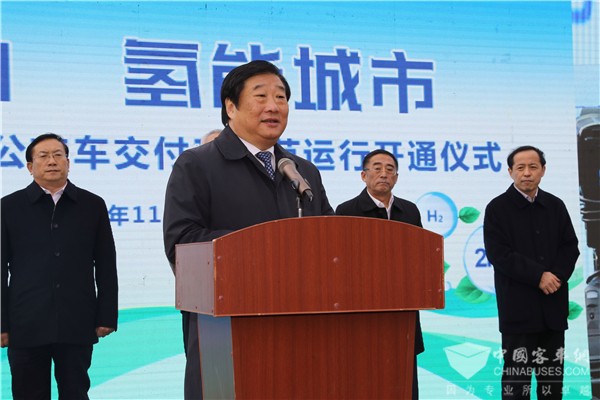 In recent years, Shandong province has been attaching paramount importance to the development of hydrogen powered vehicles. So far, it has launched several construction projects in hydrogen utilization pilot cities across the province, aiming to build a greener energy powered economy.
As one of the leading players in the new energy sector in Shandong province, Weichai has already provided new generations of power solutions for many auto brands. According to the company, vehicles equipped with Weichai hydrogen power solutions boast an accumulated mileage of over one million km. From October 19 to 20 this year, new energy buses equipped with Weichai hydrogen power solutions served many distinguished guests at the first Qingdao Multinationals Summit.
Editor:Isabella
Related China Bus News