Foton Tuano Selected as the Official Carrier for World 5G Convention
2019-11-26 Source:www.chinabuses.org
Summarize:On November 20, 2019 World 5G Convention was held in Beijing Foton Tuano equipped with 5G technology has been
On November 20, 2019 World 5G Convention was held in Beijing. Foton Tuano equipped with 5G technology has been designated as the official carrier for the high-profile event.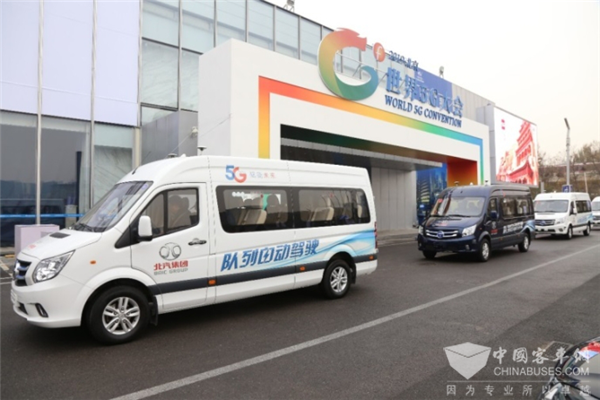 According to the organizing committee, a human driving Tuano and three autonomous driving Tuanos were put into service. Thanks to the latest intelligent sensors, telecommunication technologies and cloud platforms, these vehicles worked together and ensured the smooth operation of the event.
The autonomous driving Tuano is able to perform a number of complex tasks, including accelerating, decelerating, braking in emergencies, steering and tracking, etc. Equipped with water-cooling permanent synchronous electric motor, it is able to reach a maximum speed of 90 km/h and drive 350 km continuously.
Jointly organized by Beijing Municipal Government, National Development and Reform Commission (NDRC), China's Ministry of Industry and Information Technology (MIIT), China's Ministry of Science and Technology, the first World 5G Convention aims to showcase the latest development in 5G technologies and their applications.
Editor:Mark
Related China Bus News