110 Units King Long Electric Buses to Arrive in Yancheng for Operation
2019-11-25 Source:www.chinabuses.org
Summarize:On November 16, a grand ceremony was held at King Long factory in Xiamen to mark the delivery of 110 units King Long electric buses to their customer, Yancheng Public Transport Co , Ltd (hereafter referred to as Yancheng Public Transport)
On November 16, a grand ceremony was held at King Long factory in Xiamen to mark the delivery of 110 units King Long electric buses to their customer, Yancheng Public Transport Co., Ltd. (hereafter referred to as Yancheng Public Transport)
The 110 units King Long buses include 50 units of 8.5-meter XMQ6850AGBEVL21 and 60 units of 12-meter XMQ6127AGBEVL10.
All the 12-meter King Long buses will be put into operation on the BRT routes in Yancheng after their arrival. Thanks to a whole aluminum body structure, the vehicle has lowered its total body weight by 20%-30%, further improving its energy efficiency and its environmental friendliness.
The 8.5-meter King Long bus, also known as the City Light, possesses a particularly attractive appearance and provides more travel comforts for passengers with improved standing and sitting space. In addition, the batteries and passengers are compartmentalized, fully ensuring the safety of all passengers. King Long Eco-chip New Energy Management System and King Long Cloud Service Platform help each bus achieve higher intelligence and efficiency.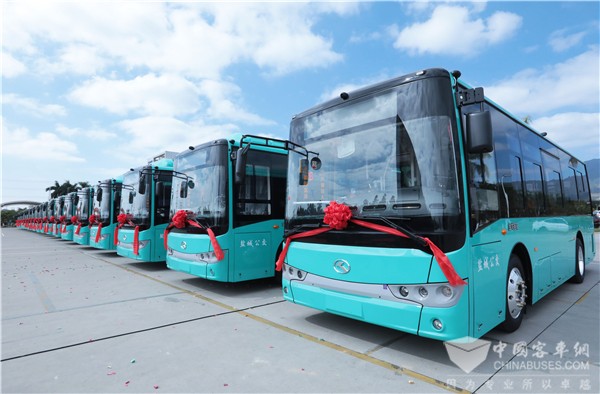 Yancheng is home to large areas of wetlands. To protect the local environment, the city has been making great efforts in building a greener and faster public transport network.
As early as 2013, King Long delivered 102 units hybrid city buses to Yancheng Public Transport, ushering a brand new era of new energy public transport. One year later, 160 units of plug-in hybrid King Long city buses arrived in Yancheng for operation. In 2018, 46 units of King Long electric buses started operation in the city, injecting new dynamics to the development of the city's green public transportation.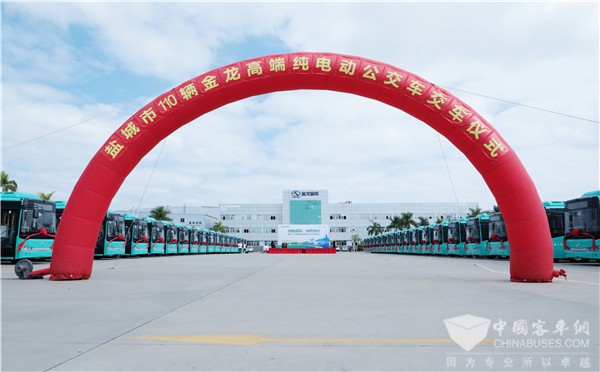 So far, the number of King Long buses in Yancheng has exceeded 500 units, accounting for 60% of the bus operator's bus fleet. Moreover, 40% buses operated by Yancheng Public Transport are powered by electricity.
"The smooth operation of King Long hybrid city buses have fully demonstrated the trust-worthiness of King Long. Since 2013, we have made several batches of new energy city buses from the bus maker," said Wang Wenfa, General Manager of Yancheng Public Transport.
Editor:Mark
Related China Bus News