12 Foton AUV Fuel Cell City Buses Start Operation in Zhangjiakou
2019-10-30 Source:www.chinabuses.org
Summarize:On October 26, 2019, 12 units Foton AUV fuel cell city buses were officially put into operation on the K1 bus line in Zhangjiakou, providing high-quality and green travel services to local residents Error! Hyperlink reference not valid Zhangjiakou K1 line runs between Zhangjiakou Railway Station and the city's Exhibition Center
On October 26, 2019, 12 units Foton AUV fuel cell city buses were officially put into operation on the K1 bus line in Zhangjiakou, providing high-quality and green travel services to local residents.Error! Hyperlink reference not valid. Zhangjiakou K1 line runs between Zhangjiakou Railway Station and the city's Exhibition Center.
Foton AUV BJ6123 fuel cell city bus, measuring 12 meters in length, fully meets the heavy passenger flows in large and medium-sized cities. In addition, it provides passengers a relaxing and comfortable travel environment, achieves high environmental friendliness and high reliability.
Equipped with a fuel cell engine, which uses front and rear disc type double circuit air pressure braking, Foton AUV BJ6123 fuel cell city bus can be refilled in 15-20 minutes and is able to drive 400 kilometers continuously. The vehicle energy conversion rate is as high as 53% -55%, heat and power conversion rate is 85%, more than twice the thermal efficiency of ordinary internal combustion engine. With zero emissions, the vehicle adopts an ergonomically designed central control console, greatly improving its maneuverability. It can easily start operation in minus 30 degrees and survive the harsh temperature of minus 40 degrees.
In addition, the whole vehicle adopts customized interior materials with high environmental friendliness and ergonomically designed seats. It runs smoothly, generating little vibration or noise, providing enjoyable travel experiences for passengers.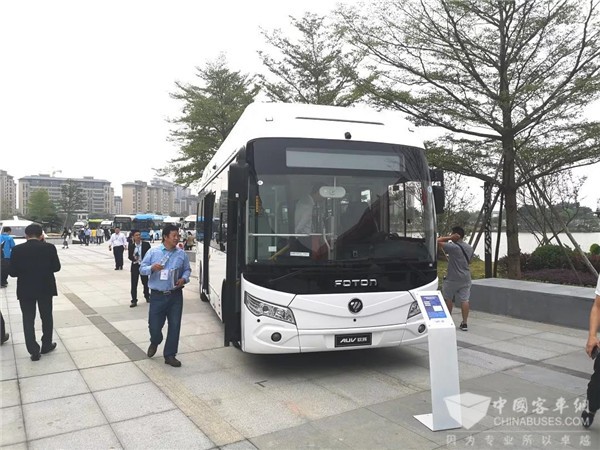 On 29 this month, eight Foton AUV BJ6123 fuel cell city buses were put into operation on K2 line. By the end of November, the remaining 20 units fuel cell city bus will also be put into operation on K3 line.
It is believed that the operation of these vehicles will further promote the green transportation equipment in Zhangjiakou and lay a solid foundation for 2022 Winter Olympic Games.
Editor:Mark
Related China Bus News