King Long Buses on Exhibition at the Busworld Brussels 2019
2019-10-18 Source:www.chinabuses.org
Summarize:The King Long Buses on Exhibition this time include: the High Automation of Level 4 Autonomous Driving King Long Apollo, 5G Intelligent Bus-PEV12, High-end Longwei II Flagship Substitute C13HD and EU Suburban Bus U-13 Product Technology and Characteristics are as follows:
The King Long Buses on Exhibition this time include: the High Automation of Level 4 Autonomous Driving King Long Apollo, 5G Intelligent Bus-PEV12, High-end Longwei II Flagship Substitute C13HD and EU Suburban Bus U-13. Product Technology and Characteristics are as follows: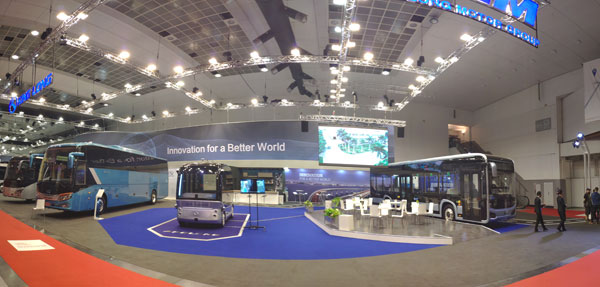 The High Automation of Level 4 Autonomous Driving King Long Apollo
The bus on exhibition this time is the Apollo 2.0, an iterative upgraded product of Apollo after one-year's commercial operation. It has the autonomous driving capability in more complex situations.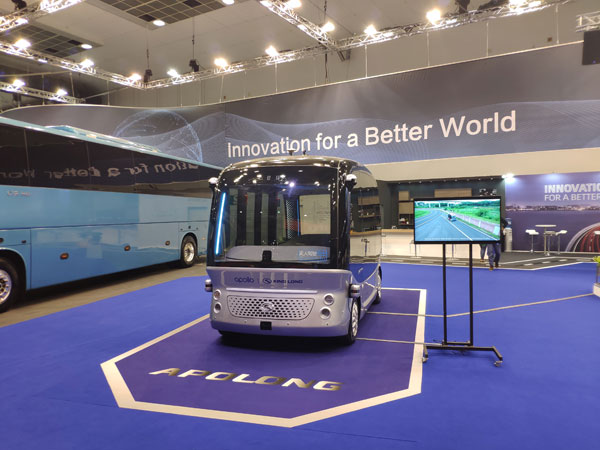 Compared with the first generation, the King Long Apollo 2.0 is equipped with an HW3.1 autonomous driving system, and has such upgraded configurations as high-performance Intel E5 and 8-core processors, and has a stronger computing power. Its higher-performance voltage stabilizing template can not only enable stable power supply but also maintain reliable endurance even in harsh environments such as cold and humidity. In respect of endurance, which has drawn much attention, King Long Apollo 2.0 has been equipped with the CATL power battery, which has increased from 42.3kwh to 49.3kwh in capacity, reduced by 50% charging time whileincreased by 20% driving mileage.
Meanwhile, King Long Apollo 2.0 has also realized an upgrading in terms of interiors. A plurality of USB charging ports are added to provide convenience for charging mobile devices. The seatadopts thinner folding seat, which makes the vehicle more comfortable and tidy. Through those upgrades, King Long Apollo has become more sophisticated and modern.
PEV12 Intelligent Connected Bus
The PEV12 is designed on the basis of the combination of the international trends and scientific progress and modern elements. It is also equipped with the V2X5G inside while enjoying a wonderful appearance. In order to give full play to the advantages of 5G, King Long has designed and manufactured the new intelligent chassis platform and intelligent network domain controller of PEV12. The intelligent chassis platform can help realize linear control of braking, steering and power systems, intelligent network domain controller, unified management of intelligent network connection equipment, and accurate perception. With the intelligent chassis platform and the intelligent network domain controller, PEV12 can make use of the large bandwidth and low delay characteristics of 5G to realize efficient co-operation between the vehicle system and traffic environment.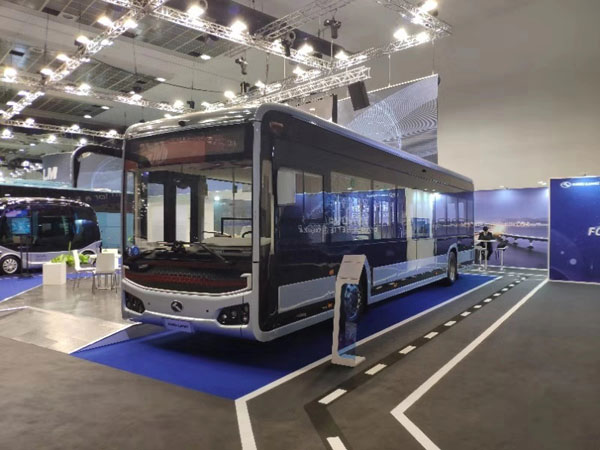 On the basis of the 5G technology, the PEV12 can realize such 5GV2X functions as over-the-horizon collision prevention, real-time vehicle-road coordination, optimal vehicle control strategy, and safe and accurate parking. In addition, the PEV12 is more intelligent as a result of the driver's identification and action recognition, the judgment of the congestion degree in the vehicle, the active anti-clamp and anti-collision functions and other auxiliary driving functions. The ECO-Chip 3.0 of PEV12 can significantly improve the safety, stability, comfort and charging safety of vehicles with the high computing capacity of a 32-bit dual-core VCU processor, as well as upgraded control hardware and control strategy. By virtue of the OTA technology, ECO-Chip 3.0 can fulfill iterative upgrading of function easily.
The internal atmosphere of PEV12 is also impressive. Reasonable battery layout are combined for it. With a large area of glass applied, much more view can be provided for passengers in the vehicle. Both technology and metro-like design are combined and ambient lighting are reasonably applied to create a more comfortable riding environment.
Longwei IIFlagship Substitute C13HD
C13HD is a representative of high-end bus manufacturing of China. Its overall performance has been improved. The high-end quality has been verified by the industry: C13HD has won the title of "Super Five-Star Safety Bus of China" by C-SCAP with the highest score of 98.2. It also provides advanced safety equipment in braking safety, driving safety, structural safety and safety protection. In terms of vibration and noise indexes, C13HD also has outstanding performance. With an optimized layout of the powertrain mounting system, the strengthened rigidity of the entire vehicle frame, and the air conditioning compressor mounted on the engine for improving the vibration isolation level, C13HD has excellent performance on NVH performance.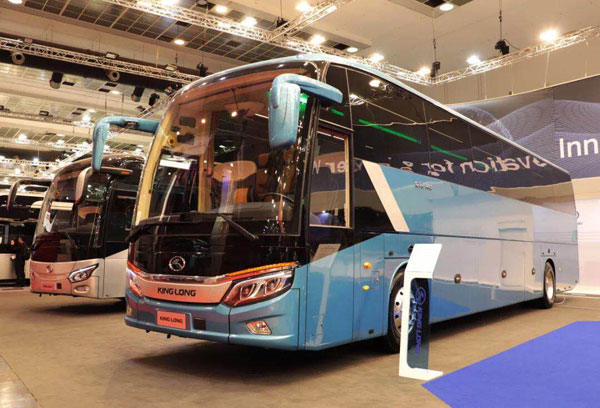 The C13HD is also with a real sense of luxury driving. Its full LCD instrument is provided with an intelligent power supply control system to monitor electrics situationin real time. It is also equipped with ZF TRAXSON AMT transmission, electronic handbrake and the one-button engine start function. The large angel adjustment multi-function steering wheel increases the tilt by 10-34o to create a perfect driving and control experience.
Luxury interiors add more appeal to the bus. The interior style of the C13HD completely follows the international trend. The design concept is simplicity, neatness and people-orientation. Refined design is also carried out in the lighting design and color assortment, ranging from diffuse step lights, soft floor lights, 6-color adjustable interior ambient lights to shell yellow suede luggage rack color matching to further create a luxurious yet quiet atmosphere.
EU Suburban Bus U13
U13 has a fashionable appearance, simple and smooth front face design, and full LED headlights. The rear enclosure is simple but beautiful, and the LED rear combination lamp shows layering and good taste.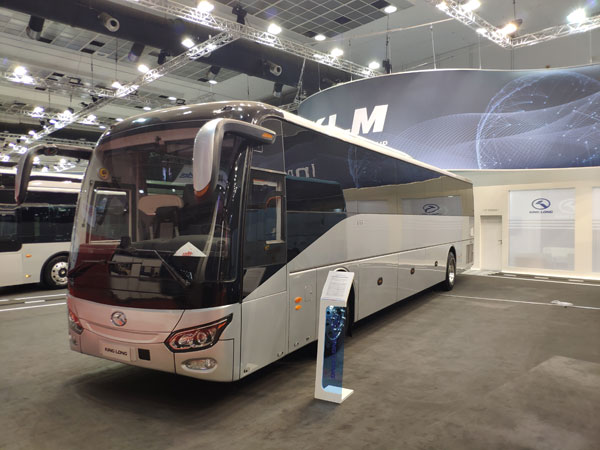 In terms of safety and reliability, the Q700 high-strength steel with "3H" structure has been adopted to improve the structural rigidity and strength of the vehicle body. Through CAE analysis, it is found that U13 also has excellent performance in vehicle NVH optimization. The intelligent ICS cooling system can save energy, reduce emissions, and prolong engine life. It is installed with the EBS+ESC+AEBS and other active and auxiliary braking systems, which can greatly improve the active safety performance of the vehicle.
In order to meet the driving demand of suburban roads, the U13 driving area has optimized instruments layout, and featured a multi-functional steering wheel and an electronic handbrake, etc. making it more convenient to drive and control. No matter on wide roads or rugged paths, drivers can always drive easily.
While its 13-m length can meet the operational requirements, the U13 also makes full use of every inch of space by scientifically arranging the seats layout, which not only improves the operational efficiency, but also enables passengers to have a more comfortable riding experience. The passenger seats fully conform to the human body curve and are making it more comfortable for riding. Equipped with ambient lighting, reading lights and other devices, it increases the travel fun. Meanwhile, the roof ambient lighting trim can also create a warm atmosphere.
Editor:King Long
Related China Bus News