King Long Fuel Cell Buses Hit the Road in Fujian
2019-06-21 Source:www.chinabuses.org
Summarize:On June 18, the 17th China Cross-Straits Technology and Projects Fair (CSTPF) officially opened its curtain in Fuzhou Over 1,200 enterprises attended the fair King Long fuel cell bus XMQ6850G, was officially put into operation, providing greener and more convenient transportation services for participants
On June 18, the 17th China Cross-Straits Technology and Projects Fair (CSTPF) officially opened its curtain in Fuzhou. Over 1,200 enterprises attended the fair. King Long fuel cell bus XMQ6850G, was officially put into operation, providing greener and more convenient transportation services for participants. The official operation of King Long fuel cell bus marked a new milestone in the commercialization of fuel cell buses.
Coated in green and blue, XMQ6850G drove from Hongshan Road to Straits International Exhibition Center on the morning of June 18 with a one-way distance of 15 kilometers.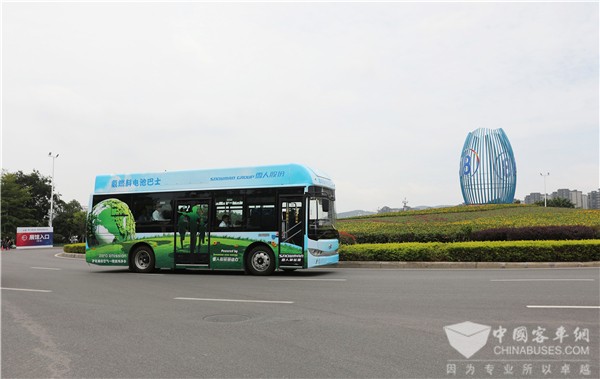 A bus driver surnamed Zhao with over 20 years driving experience spoke highly of XMQ6850G, saying "the vehicle has powerful performances and maneuvers more easily on the road." By a refill of hydrogen of 10-15 minuets, the bus is an ideal choice for urban public transport.
Having gained the operation permit from China's Ministry of Industry and Information Technology (MIIT), XMQ6850G is the first fuel cell bus on the road in Fujian province. Equipped with fuel cells and power batteries, the bus is able to drive 580 km continuously.
After arriving at Straits Exhibition Center, XMQ6850G attracted wide media and public attention. "It is equipped with three major safety & protection measures, including whole vehicle safety system, hydrogen supply safety system and real-time hydrogen monitoring system," revealed Song Guangji, Deputy General Manager of King Long New Energy & New Technology Department.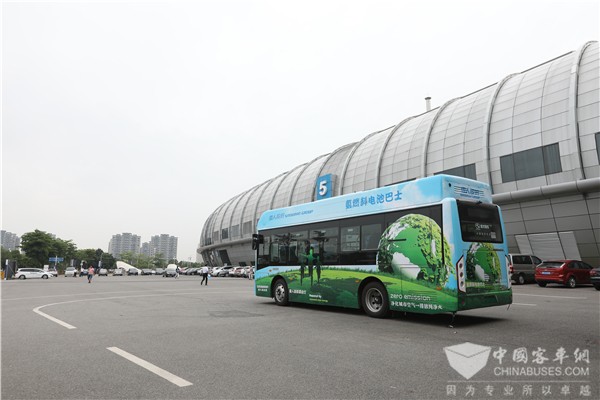 By introducing carbon fiber aluminum hydrogen gas tank, ECO-Chip 3.0 new energy management system, duel core whole vehicle controller, XMQ6850G has already passed a number of stringent tests and achieves the highest safety standards. To prevent any gas leaks, the vehicle has highly sensitive sensors at all key points. In case of thundering weather, the bus can readily shift its power from fuel cells to lithium batteries. Also worth mentioning is Longwin Internet of Vehicles Fuel Cell Battery Monitoring Platform, which closely supervises the operation of the vehicle's fuel cell system. During the hydrogen refilling process, the bus automatically shut down its high-voltage electricity system.
So far, a consensus has reached that fuel cell vehicles represent the future. With government's supports and incentives, fuel cell vehicles have gained increasing spotlight in recent years.
King Long started developing fuel cell buses in 2010. In November, 2015, it signed cooperation ties with Ballard (BLD), ushering a brand new era for its fuel cell bus development. Later, it set up Fuel Cell Bus Development Team with over 50 engineers. IN 2016, it successfully rolled out a 12-meter fuel cell bus. In 2017, the company's 12-meter fuel cell bus XMQ6127AGFCEV won the operation permit from China's Ministry of Industry and Information Technology. In 2019, King Long 8-meter fuel cell bus XMQ6850G made its debut, ushering a brand new era for the commercialization of fuel cell buses.
Editor:Ida
Related China Bus News