Zhongtong Delivers 100 Units Buses to Mozambique
2019-06-19 Source:www.chinabuses.org
Summarize:On June 14, a grand ceremony was held to mark the delivery of 100 units Zhongtong buses to Mozambique Filipe Jacinto Nyusi, President of Mozambique, Su Jian, Chinese Ambassador to Mozambique, Li Shupeng, president of Zhongtong, together with a number of distinguished guests attended the ceremony
On June 14, a grand ceremony was held to mark the delivery of 100 units Zhongtong buses to Mozambique. Filipe Jacinto Nyusi, President of Mozambique, Su Jian, Chinese Ambassador to Mozambique, Li Shupeng, president of Zhongtong, together with a number of distinguished guests attended the ceremony.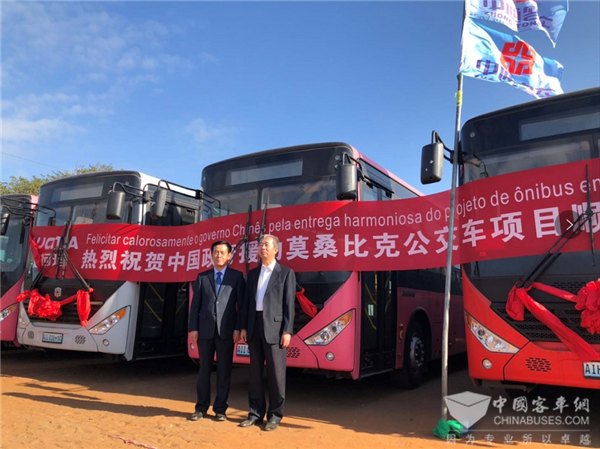 At the ceremony, Li Shupeng pointed that that Zhongtong would further deepen its cooperation with local customers and was committed to improving the local public transportation networks.
As a part of China's aid program to Mozambique, all these Zhongtong buses will be immediately put into operation and provide more convenient transportation services for local citizens.
In 2017, Zhongtong delivered 80 units buses to Mozambique, winning widespread recognition from local customers and passengers. With uniquely attractive appearance, more spacious room and more travel comforts, Zhongtong buses have been playing an increasingly important role in the local public transportation.
In 2004, Zhongtong rolled out its internationalization strategy. So far, it has established four overseas factories and made its presence in over 100 countries and regions. By constantly diversifying its product line and improving the quality of its products and its after-sales services, it has successfully entered Germany, Israel, South Korea and other developed countries.
Editor:Lucy
Related China Bus News