50 Units Golden Dragon Buses Delivered to Sierra Leone for Operation
2019-04-11 Source:www.chinabuses.org
Summarize:On April 10, a grand ceremony was held in Xiamen to mark the delivery of 50 units Golden Dragon buses to their customer from Sierra Leone The 50 units buses, including 15 units 7-meter city buses, 25 units 8-meter city buses and 10 units 9-meter city buses, are equipped with advanced technologies and more customized features, fully meeting the local operation requirements
On April 10, a grand ceremony was held in Xiamen to mark the delivery of 50 units Golden Dragon buses to their customer from Sierra Leone. The 50 units buses, including 15 units 7-meter city buses, 25 units 8-meter city buses and 10 units 9-meter city buses, are equipped with advanced technologies and more customized features, fully meeting the local operation requirements.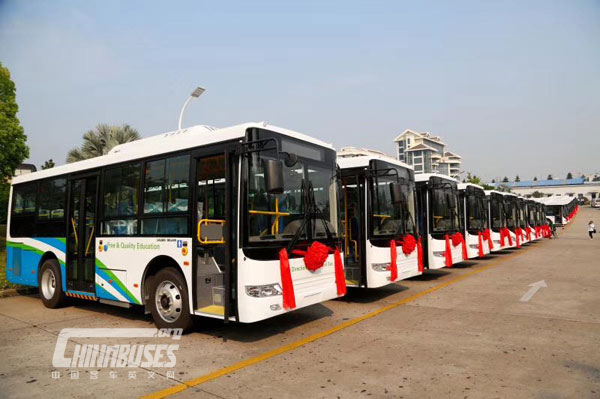 Golden Dragon Buses Ready for Their Journey to Sierra Leone
Sadike Silla, vice minister of Sierra Leone's Ministry of Transport, Paul Tucker, Deputy General Manager of Sierra Leone Public Transport Corporation, Daniel Kaitibie, Deputy Director of Road Safety Bureau from Sierra Leone, Huang Chun, President of Fujian Automobile Industry Group, Qiu Zhixiang, King Long Motor Group, Peng Dongqing, Xiamen Golden Dragon Van Co., Ltd., together with a number of other distinguished guests witnessed the historical moment at the ceremony.
According to Golden Dragon, it signed a sales agreement of 200 units buses with Sierra Leone in Xiamen in late August, 2018, just a few days before China-Africa Cooperation Forum. After the delivery of the first batch of 50 units buses, the rest of 150 units Golden Dragon buses will soon be delivered to the country for operation. After their arrival in Sierra Leone, they will be put into operation in Freetown, the capital city of the country.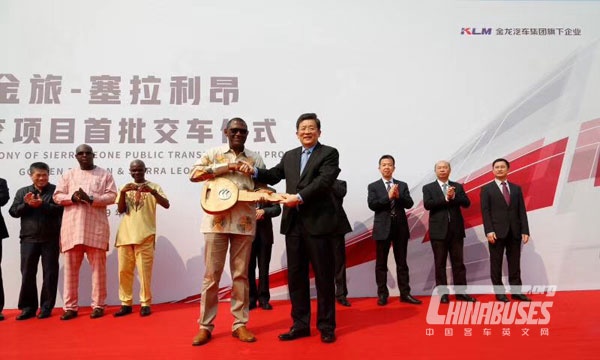 Sadike Silla Received the Key from Huang Chun
Located in west Africa, Sierra Leone's new administration took office in April, 2018. Committed to developing the country's economy and improving people's livelihood, the country decided to introduce 200 units buses to Freetown, the country's most populous city, to improve its public transport networks. After a thorough investigation of several well-renowned bus brands, it finally decided to place an order on Golden Dragon.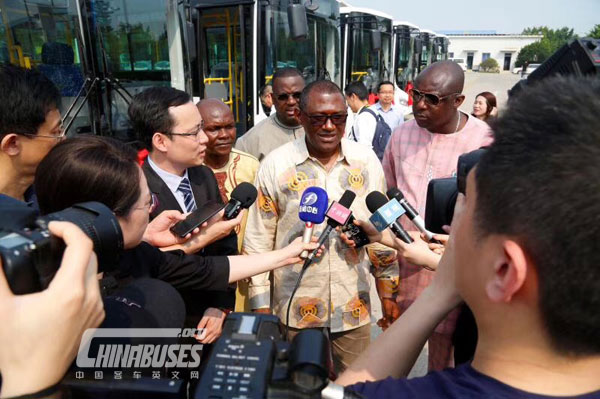 Sadike SillaTook an Interview with the Journalists from Various Media
Paul Tucker spoke highly of Golden Dragon buses, saying the day of delivery is worth remembering. According to him, his company will be responsible for operating all 50 units Golden Dragon buses, which are scheduled to put into service for transporting school kids from and to schools.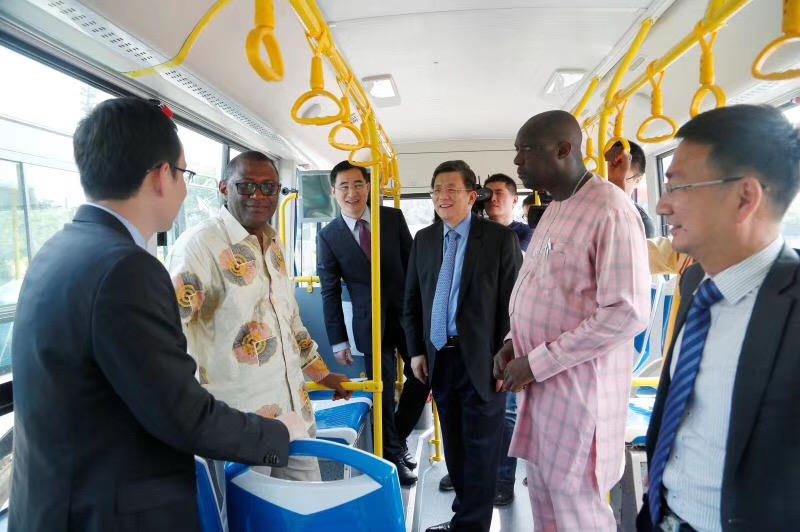 Customers Walk on Board to Take a Closer Look at Golden Dragon Buses
Powered by diesel engines, the 50 units Golden Dragon buses are equipped with advanced transmission gearboxes and front & rear axles. During the designing and manufacturing process, the bus maker has taken Freetown's road and weather conditions into full consideration, such as optimizing the vehicles' structures, increasing their chassis height, improving their anti-corrosive performance, etc. In addition, a number of travel amenities are available on board, providing more travel comforts for passengers.
To ensure the smooth operation of all Golden Dragon buses, the bus maker will send a team of service engineers to Sierra Leone to provide training sessions and after-sales services for the local bus operator.
Since 2003, Golden Dragon has made its way to over 120 countries and regions across the globe. So far, over 60,000 units Golden Dragon buses have been put into service outside China. In 2018, the bus maker increased its sales volume by 62% year on year and its sales revenue by 43% year on year.
Editor:Mark
Related China Bus News