Foton AUV Electric Buses Start Operation in India
2019-02-21 Source:www.chinabuses.org
Summarize:Made in China, manufactured by Foton AUV Bus Company,the bus is run by Himachal Road Transport Corporation (HRTC) The 30-seater electric bus was flagged off by Chief Minister Jai Ram Thakur on the Shimla-Dhalli circular route
Residents and tourists in the state capital of Shimla India enjoyed their first electric bus ride on Monday.
Made in China, manufactured by Foton AUV Bus Company,the bus is run by Himachal Road Transport Corporation (HRTC). The 30-seater electric bus was flagged off by Chief Minister Jai Ram Thakur on the Shimla-Dhalli circular route.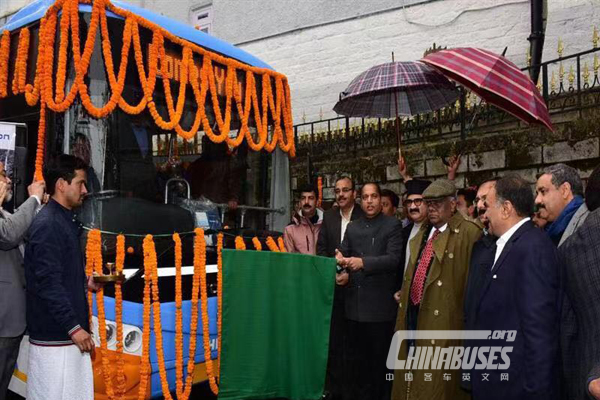 "If all goes as planned, the HRTC is likely to operate 30 more Foton AUV electric buses in the city by March 31 in a bid to make the city pollution-free. In the next three months, the corporation will start 50 electric buses on different routes, replacing the local fleet of its diesel-run buses," an HRTC manager said.
"Each bus had 24 seats and cost the HRTC Rs 1.91 crore, whereas the 30-seater bus costs Rs 73.96 lakh," sources said. The buses plied between Manali and Rohtang, Kullu and Manali after the National Green Tribunal rap.
The HRTC has signed an agreement with the Foton AUV for the purchase of 50 electric buses.
On the launch of the electric bus service in the city, the Chief Minister said: "The HRTC will run over 50 electric buses in the city soon. These buses are equipped with latest equipment and have zero emission, which will go a long way in protecting the city from pollution."
Meanwhile, the HRTC has set up its re-charging station at Dhalli. "It takes 30 minutes to recharge a bus. Once fully charged, it can cover 150 km," CGM, HRTC, Aminder Gupta said. He said the service would be started between Shimla and Theog, Shimla and Solan soon. "We will get all clearances for adding 30 more electric buses to the fleet by March 31. Twenty buses will start operating in the city in April," Gupta said.
Editor:
Related China Bus News