Golden Dragon Made Impressive Achievements in 2018
2019-01-24 Source:www.chinabuses.org
Summarize:In 2018, Golden Dragon sold 5,309 units buses measuring six meters in length and above, ranking the second place in the market
In 2018, Golden Dragon sold 5,309 units buses measuring six meters in length and above, ranking the second place in the market.
From April to June in 2018, Golden Dragon's fist products, including Navigator, Triumph, Splendor and Kast, toured in 15 cities across China, showcasing their unparalleled travel comforts, higher energy efficiency, higher reliability and higher level of intelligence. All of these vehicles are set to create more added values for their customers.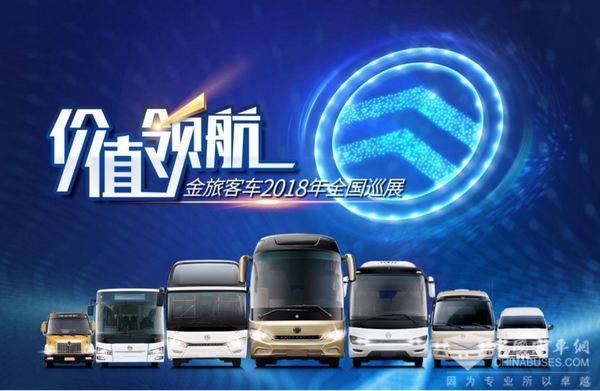 Navigator, as a flagship luxury coach for the high-end market, is the result of hard work and wisdom of over 100 researchers from both home and abroad in three years. Once making its debut, it received orders from Shouqi Group, Beijing Xinyue Union Automobile Service Company, Chengdu Fulin Passenger Transportation Group.
In 2017, Navigator won wide acclaims at Busworld Expo held in Kortrijk in Belgium. In June, 2018, it won Appearance Patent from EU. In December, 2018, it won Good Design Awards from the U.S.A. So far, the vehicle has successfully made its way to a number of overseas markets, including Saudi Arabia and Singapore, etc.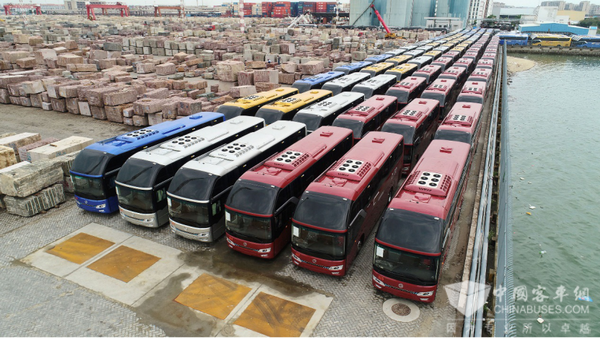 In 2018, Golden Dragon sold 2,073 units new Triumph buses, fully demonstrating the vehicle's formidable strengths in the market. In November, 2018, 20 units Golden Dragon electric buses started operation in Changdu, Tibet, ushering a new era for the city in the high altitude. On November 30, Golden Dragon's driverless bus, Xingchen were officially revealed in Changzhou, Jiangsu province. It also successfully obtained the first auto driving licence plate in Jiangsu province.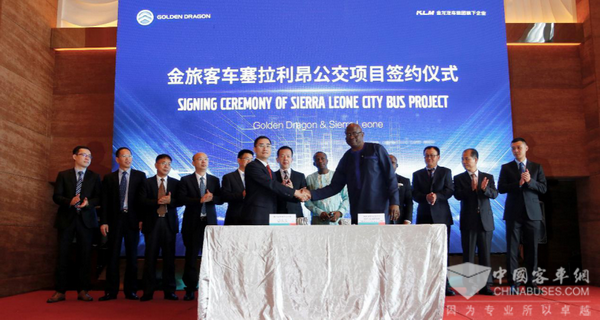 In 2018, Golden Dragon further strengthened its presence in the overseas market with batches of buses exported to Israel, Saudi Arabia, Tanzania, Philippines, and Egypt, etc. In January, over 300 Golden Dragon buses started operation in Libreville, the capital city of République Gabonaise in west Africa. In March, 375 units Golden Dragon school buses were delivered to their customer in Kuwait. In June, 50 units Triumph buses served at 2018 World Cup in Russia. In July, 264 units Triumph luxury coaches arrived in Saudi Arabia serving Hajj. In August, Golden Dragon signed a public transportation cooperation agreement with Sierra Leone. Also in 2018, it obtained an order of 270 units Triumph luxury coaches from Saudi Arabia, 270 units intercity buses from Israel, and 149 units Triumph travel coaches from Philippines.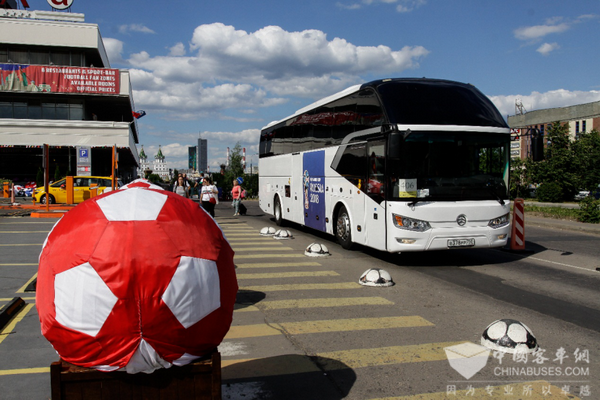 In 2018, Golden Dragon sold 4,900 units buses & coaches in the overseas market with a total export revenue of o190 million USD (about 1.29 billion RMB). Its export volume jumped by 64% year on year and its export revenue grew by 44% year on year. The bus maker sold 1,407 units medium- and large-sized buses and coaches measuring 10 meters in length and above, including 1,000 units passenger coaches.
Currently, Golden Dragon has successfully developed its fifth generation key new energy technologies. It boasts a wide spectrum of new energy buses measuring from 4.7 meters to 12 meters in length.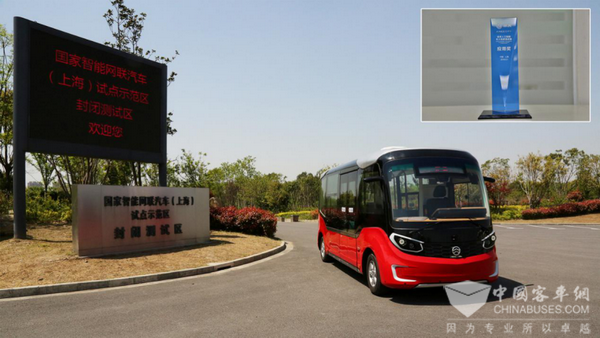 Editor:
Related China Bus News