Golden Dragon Won Six Awards in Shenzhen
2018-11-02 Author: Source:www.chinabuses.org
Summarize:On October 28, the third China Shenzhen New Energy Vehicle (Logistic Vehicle) Competition was held in Shenzhen At the one-day event, all vehicles were tested for their continuous driving distance, power performance, acceleration, braking, and energy efficiency
On October 28, the third China Shenzhen New Energy Vehicle (Logistic Vehicle) Competition was held in Shenzhen. At the one-day event, all vehicles were tested for their continuous driving distance, power performance, acceleration, braking, and energy efficiency.
This year, Golden Dragon brought its latest Sea Lion electric logistic vehicle---Longyun 3.0 for the competition. Loaded with 1,300 kg of goods, the vehicle achieved a torque of 490 N.m and easily climbed the slopes, made stops during the climbing and then easily finished the rest of its climb. The vehicle, thanks to its minimum 170mm-gap between its body and the ground, also drove with a speed of 5 km/h through waters with a depth of 40 cm. In addition, Longyun 3.0 successfully accelerated from a standstill to a speed of 60 km/h and then made a full stop on a straight lane of just 500 m.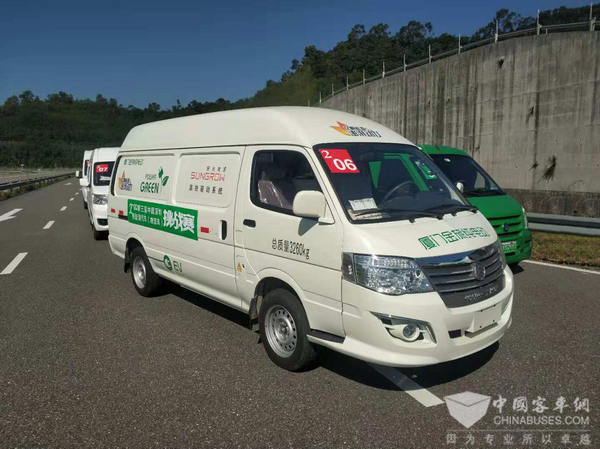 Equipped with phosphate iron lithium batteries, Longyun 3.0 boasts a full power storage of 51.67 kW.h. Though fully loaded with 1,300 kg of goods, it only consumed 17 kW.h electricity after running 101 km.
At the end of the day, after several rounds of competition, Longyun won six awards, including Best Performance in Braking, Best Performance in Driving Through Waters, Best Performance in Climbing Slopes, Best Performance in Acceleration, Best Customer Evaluation Award and Expert Recommendation Award.
According to Golden Dragon, it won a total number of nine awards in the first two China Shenzhen New Energy Vehicle (Logistic Vehicle) Competition.(www.chinabuses.org)
Editor:
Related China Bus News