Sunwin Starts Operation on the First Fuel Cell Bus Route in Shanghai
2018-09-28 Source:www.chinabuses.org
Summarize:On September 27, the first fuel cell bus route in Shanghai, Jiading No 114, officially started operation Mainly powered by fuel cells and supplemented by power batteries, six units Sunwin SWB6128FCEV01 fuel cell city buses with low-floor access attracted wide media and public attention on the first day of their operation
On September 27, the first fuel cell bus route in Shanghai, Jiading No.114, officially started operation. Mainly powered by fuel cells and supplemented by power batteries, six units Sunwin SWB6128FCEV01 fuel cell city buses with low-floor access attracted wide media and public attention on the first day of their operation.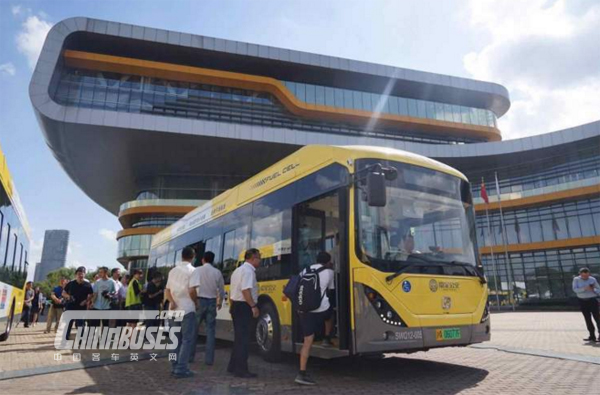 Capable of driving up to 560 km continuously, Sunwin fuel cell bus has truly realized zero-emission standards. In addition, a host of protective measures, including real-time hydrogen density monitoring, hydrogen cut-off protection, high-pressure protection, and collision protection, fully ensures the safe and smooth operation of the vehicle.
As part of the Initiative for Promoting Commercialization of Fuel Cell Vehicles in China, Sunwin fuel cell bus was developed through the joint efforts of Sunwin, GEF, UNDP, China's Ministry of Finance, Ministry of Science and Technology.
Apart from being highly environmentally friendly, Sunwin fuel cell bus only needs three to five minutes to get a refill of hydrogen, just like a normal bus getting a refill of diesel. "The public still has some misconceptions about fuel cell vehicles. Actually, the current hydrogen-powered vehicles have already achieved higher safety standards compared with diesel or LNG powered vehicles," according to an insider from the bus industry.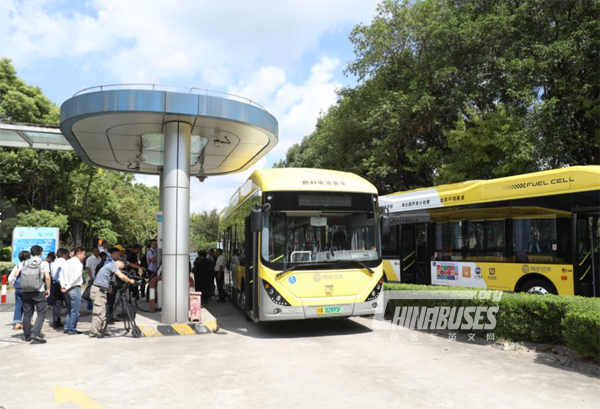 Currently, the biggest challenge for the commercialization of fuel cell vehicles is the high costs of building hydrogen refill stations. As a result, they can only be found in Beijing, Shanghai, Shenzhen, Zhengzhou, Dalian, Foshan, etc.
Anting Hydrogen Refill Station in Shanghai, the first one in the city, started operation in July, 2009. With a storage of 800 kg of hydrogen, it is able to provide hydrogen power for twenty units sedan cars and six units buses.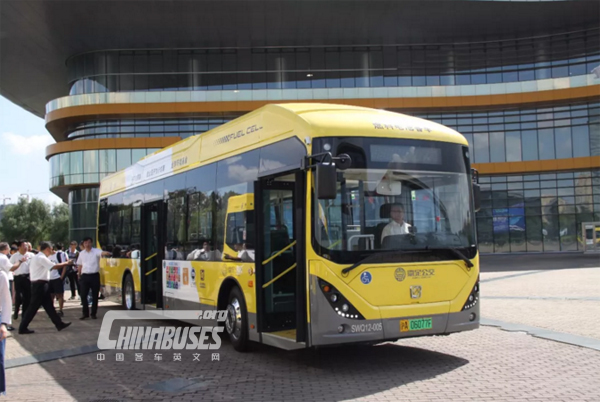 According to Shanghai Municipal Government, the city will build five to ten hydrogen refill stations and set up two pilot fuel cell vehicle operation districts by 2020. By then, the number of fuel cell vehicles in operation will reach 3,000 units. By 2025, Shanghai will have 50 hydrogen refill stations and over 20,000 units fuel cell passenger vehicles and no less than 10,000 units hydrogen-powered special vehicles in operation.
The operation of the first fuel cell bus route in Shanghai marks a brand new era for the city. Currently, it has 50 units fuel cell passenger vehicles, 20 units fuel cell post service vehicles, 10 units fuel cell commuting vehicles, 100 units fuel cell vehicles for logistic services in operation.
Editor:
Related China Bus News