Prime Minister of Cape Verde Ulisses Correia e Silva Pays a Visit to Higer Bus
2018-09-14 Source:www.chinabuses.org
Summarize:On the afternoon of Spetember 7, a delegation led by Prime Minister of Cape Verde Ulisses Correia e Silva, accompanied by Laiqing Jiang and Hai Jiang, deputy mayors of Suzhou City, and Wei Han, deputy secretary-general of Suzhou Municipal Government, paid a visit to Higer Bus on the sidelines of Beijing Summit of the Forum on China-Africa Cooperation (FOCAC), and all members of the delegation were warmly received by Mr Shuping Huang, managing director of Higer Bus
On the afternoon of Spetember 7, a delegation led by Prime Minister of Cape Verde Ulisses Correia e Silva, accompanied by Laiqing Jiang and Hai Jiang, deputy mayors of Suzhou City, and Wei Han, deputy secretary-general of Suzhou Municipal Government, paid a visit to Higer Bus on the sidelines of Beijing Summit of the Forum on China-Africa Cooperation (FOCAC), and all members of the delegation were warmly received by Mr. Shuping Huang, managing director of Higer Bus.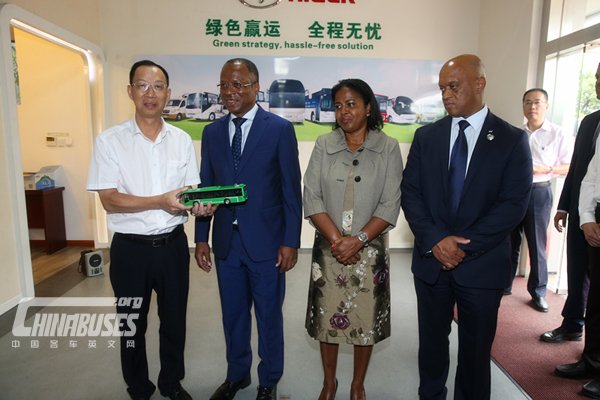 In the Higer exhibition hall , Mr. Shuping Huang introduced the company's development history, product technology research and develpoment, G-BOS Intelligent Operation System Monitoring Platform and the company's export and import business, and also shifted his focus on the African market.
Prime Minister Silva successively got on the buses to experience the different best-selling models of Higer Bus. On a Higer new energy bus, Prime Minister Ulisses Correia e Silva inquired about the details of product configuration, performances, price and market shares, etc. He remarked, Cape Verde is a tourism country which highly encourages the use of new energy buses. While experiencing the van of Higer, Prime Minister Silva said that Higer van was excellently manufactured with spacious cabin with the higher cost performance, so it will be well received in the local market of Cape Verde, so he expects more and more Higer vehicles will run in Cape Verde.
Mr. Shuping Huang proudly presented a Higer bus model to Prime Minister Silva in token of best wishes and also expressed his expectation for an in-depth cooperation with Cape Verde so that Higer Bus can take an active part in the local bus transportation construction and more Higer buses can facilitate the local people in Cape Verde for convenient travel.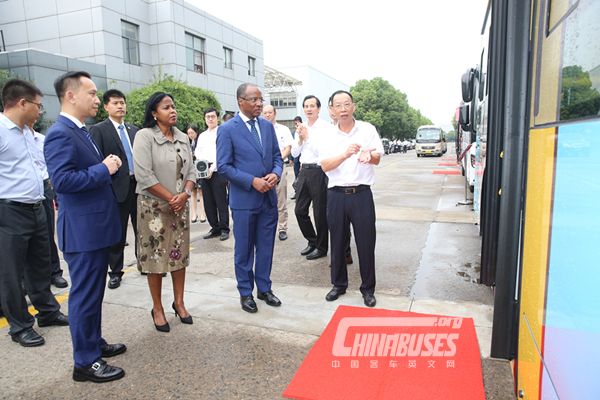 Cape Verde is situated in West Africa along the coast of North Atlantic Ocean with the advantageous geographical position. In recent years, it has enjoyed the social stability, rapid economic development and thriving tourism. Higer Bus made its debut into Cape Verde Market in 2016 and has thus far established the excellent cooperation with the public transportation sectors of this country.
Higer Bus entered the African market as from 2004 and has been active in markets of more than 40 African countries through the 15-year continuous and assidious marketing efforts, particularly in Algeria, Angola, Ethiopia, Zambia, Nigeria, Tanzania, Zimbabwe, etc. In view of the special road conditions and climate conditions in Africa, Higer has delicately ameliorated the vehilce route matching and customized its servcie to ensure that Higer busess can easily adpat to the actual operation demands of African areas by reinforcing the body frame, heightening vehicle chassis and optimizing the engine heat dissipation. To enahnce the service level , Higer has built more than 40 service and parts stations in Africa, thus having won the market recognition for its excellent adaptbility, reliable product quality and timely and considerate service.
"China is always the best friend, best partner and best brother of Africa". Over years, China and Africa have strengthened coopreation and jointly forged ahead hand in hand toward a road of win-win cooperation of brighter features. Higer Bus, as the guardian of the Sino-African friendship, will continue its deep participation in the Sino-African cooperation to provide more excellent solutions to the public transportation of the African people.(www.chinabuses.org)
Editor:Ida
Related China Bus News