King Long, Golden Dragon and Higer Witness Fast Rising Popularity in Africa
2018-09-07 Source:www.chinabuses.org
Summarize:As one of China's pioneers in exploring the overseas market, King Long Motor Group has made impressive achievements So far, its buses and coaches have made their way to over 160 countries and regions across the globe In just over a decade, the three bus brands, King Long, Golden Dragon and Higer, have already established an enviable presence in the overseas market
As one of China's pioneers in exploring the overseas market, King Long Motor Group has made impressive achievements. So far, its buses and coaches have made their way to over 160 countries and regions across the globe. In just over a decade, the three bus brands, King Long, Golden Dragon and Higer, have already established an enviable presence in the overseas market.
King Long in Africa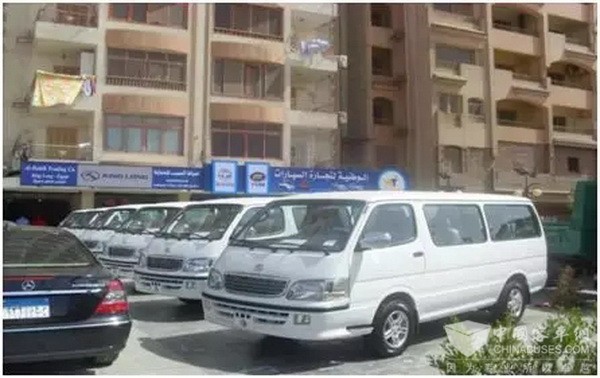 As the leading bus exporter in China, King Long takes a leading place in several countries in Africa. Nowadays, King Long buses can be easily spotted in Egypt, Tunis, South Africa, Angola, Nigeria, Cote Diva, Kenya, Ethiopia and Tanzania.
Entering South Africa in 2008, King Long enjoys great popularity among the public in the country and has been voted by the local people as the favorite transportation tools.
In 2009, King Long made its entry into Egyptian market. A few years ago, the company set up its own assembly lines there to further cut the production and transportation costs as well as the delivery time. Having not only created more job opportunities for the local people, King Long has also been providing greener and more convenient transportation services for more and more Egyptians.
Currently, in Nigeria, the most populated country in Africa, over 3,000 King Long buses, including Kingo light buses, are working smoothly. In 2017, King Long distributor in the country was recognized as the Best Transportation Company of the Year.
"We always put our customers concerns as our top priorities and are always committed to helping them solve their pressing problems," said a manager from King Long.
Golden Dragon in Africa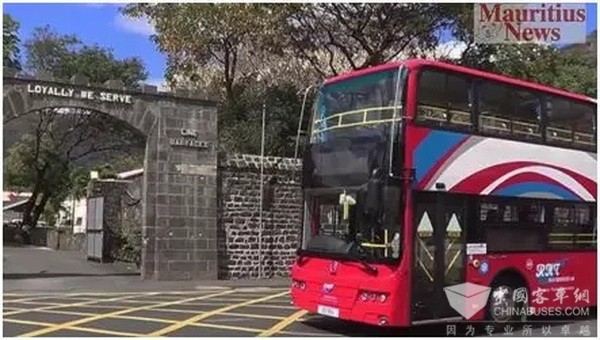 So far, Golden Dragon has made its way to 35 countries in Africa, including Tanzania, Egypt, Nigeria, Sierra Leone, Ivory Coast, and Gabon, etc.
Considering it as one of its strategic markets, Golden Dragon has been rolling out a wide spectrum of customized buses and coaches with higher quality and higher safety standards and much-improved after-sales services.
In 2015, Dar es Salaam, the capital city of Tanzania, officially launched a BRT project called DART, hoping to ease the traffic congestions and provide more travel conveniences for the local people. Golden Dragon, beat all internationally renowned bus rivals and later successfully delivered 138 buses to Tanzania. Currently, 215 units Golden Dragon buses are serving on DART, becoming an indispensable part of the local people's daily life.
In 2014, Golden Dragon won new orders from Mauritius. In September, 2015, Golden Dragon double-decker city buses officially went into operation. In just a few days, they won the hearts of local people and transformed the local public transport system.
On August 30, 2018, Golden Dragon signed a sales agreement with Sierra Leone for providing the country with 200 buses, which are set to significantly improve the country's capital, Free Town's public transport system.
Higer in Africa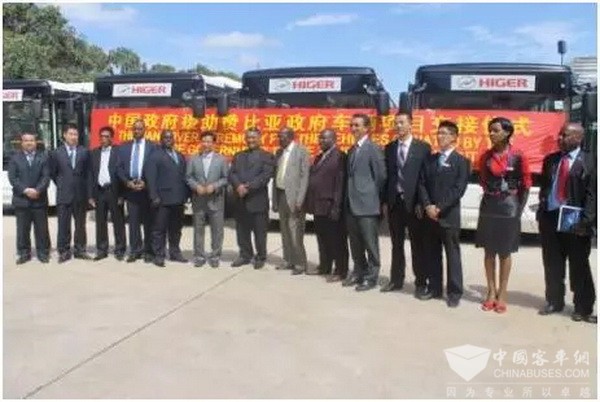 Currently, Higer buses and coaches are working smoothly in over 40 countries in Africa, including Algeria, Angola, Ethiopia, Zambia, Nigeria, Tanzania, Zimbabwe, etc.
In Algeria, Higer worked together with its local dealer and set up its own KD factory in the country, creating job opportunities and helping boost the local economy.
In March this year, Hage Geingob, the president of Namibia paid a special visit to Higer and expressed his appreciation for Higer's great contributions to improving the country's public transport system.
In Angola, a total number of 1,200 Higer buses and coaches are providing greener and more comfortable travel services for local people.
In Zambia, Higer has become the leading bus brand. It provides high-quality transportation services for both local citizens and Chinese enterprises.(www.chinabuses.org)
Editor:Ida
Related China Bus News