50 Units Ankai A8 Coaches to Arrive in Ghana for Operation
2018-07-18 Author: Source:www.chinabuses.org
Summarize:According to Ankai, these vehicles will provide transportation services and commuting services for Ghana Ministry of National Defense Measuring 12 meters in length, A8 is equipped with a powerful driveline and a host of advanced technologies Thus, it boasts comparable superiority compared with its counterparts in terms of safety standards, reliability and fuel economy
On July 9, a total number of 50 units Ankai A8 coaches were shipped at Tianjin Port. Soon, they will arrive in Ghana for operation.
According to Ankai, these vehicles will provide transportation services and commuting services for Ghana Ministry of National Defense. Measuring 12 meters in length, A8 is equipped with a powerful driveline and a host of advanced technologies. Thus, it boasts comparable superiority compared with its counterparts in terms of safety standards, reliability and fuel economy.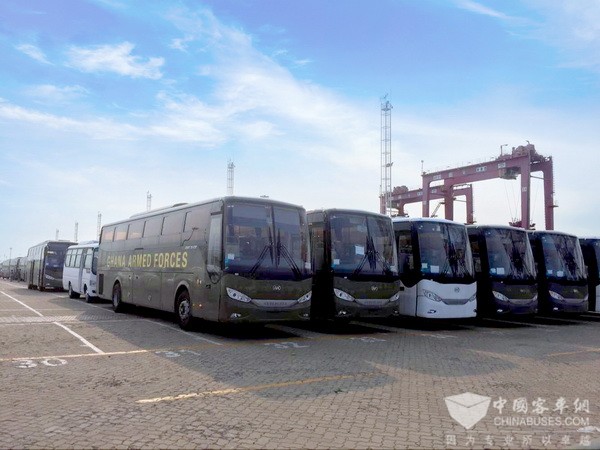 To better adapt to the local weather conditions, Ankai A8 has a number of customized features, including a powerful air-conditioning system and a compartment door for its engine.
Located in west Africa, Ghana is known as "Golden Coastline" for its richness in gold. As one of the top ten economies in Africa, Ghana is also one of strategic overseas market for China's bus makers.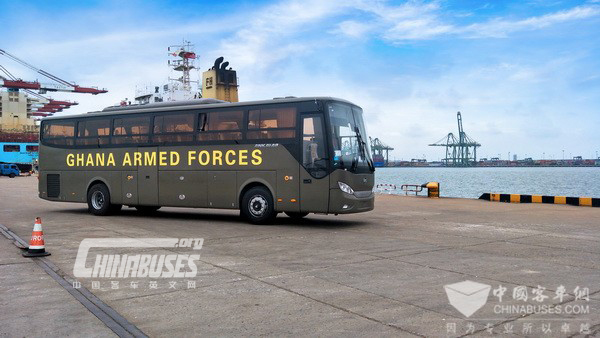 Ankai officially entered Ghana in 2010, providing quality public transportation services for local citizens. It soon gained high popularity thanks to its impressive performances and extremely high safety standards. Currently, Ankai has grown into one of the major bus brands in Ghana.
In the first half of 2018, Ankai made impressive achievements in its overseas expansion. Early this year, Ankai's first electric double-decker tour bus started its official operation in Paris. In April, it exported 800 units A9 high-end coaches to Saudi Arabia.(www.chinabuses.org)
Editor:ida
Related China Bus News