Higer Brand Value Exceeds 35 Billion RMB
2018-06-27 Author: Source:www.chinabuses.org
Summarize:As one of the leading players in China's bus manufacturing industry, Higer has established a solid presence in over 100 countries and regions across the globe So far, its export volume has exceeded 40,000 units
As one of the leading players in China's bus manufacturing industry, Higer has established a solid presence in over 100 countries and regions across the globe. So far, its export volume has exceeded 40,000 units.
In Bulgaria, Serbia, Israel, Italy, Higer has been providing green public transport solutions. In response to China's Belt Road Initiative, it has become increasingly involved in building a new generation of public transport system in Qatar, Saudi Arabia, Russia, Vietnam, Cambodia, etc.
On April 20, 2018, the second conference of China Association of Tour Dispatch Hubs was held in Chengdu, Sichuan Province. At the conference, Higer rolled out an integrated tourist transportation solution to help bus operators make a smooth transition in the face of the increasing market competition. The solution covers every detail from choosing vehicles to vehicle maintenance, aiming to further integrate the tourism and transportation industries.
On May 28, Higer brought its new generation intelligent buses on display at the 14th China International Transport Technologies & Equipment Exhibition. Its Haibao medium-sized coach 2018 version KLQ6909KA and its fifth generation electric city bus Low-carbon E10, are targeted at those customers which are making a new transition.
Equipped with 38+1 seats, Haibao KLQ6909KA boasts larger luggage compartment. It is an ideal choice for short- and medium-distance passenger transportation. Higer Low-carbon E10 has introduced adaptive ramp system (ARS), which is able to automatically assess the road conditions and thus calibrate the power output of the vehicle. In addition, with higher safety standards and higher energy efficiency, Low-carbon E10 is particularly suitable for bus routes with large passenger flow.
So far, Higer buses have served a number of high-profile events both at home and abroad, further strengthening its overall competitiveness and brand recognition in the global market.
So far, Higer has served China's annual Two Sessions for nine consecutive years, providing transportation services for delegates from all over China. In addition, it has made its appearance at Boao Asia Forum for ten consecutive years, providing smooth transportation services for all distinguished guests.
On June 9 and 10 this year, Scania Higer Touring luxury coaches provided transportation services for distinguished guests from airport to conference venues at SCO Qingdao Summit, fully demonstrating China's formidable strengths in bus manufacturing industry.
On June 14, 2018 FIFA World Cup officially kicked off in Russia. Over 4,400 units Higer buses were designated as the carriers for football fans from all over the world. During the one-month event, Higher buses will travel among the 11 host cities across Russia. To ensure the smooth operation of these buses, Higer has set up 38 service stations and sent a number of technicians with rich experience to provide round-the-clock after-sales services.
As Hong Kong - Zhuhai - Macao Bridge will soon be put into service, 120 units Scania Higer buses will start operation and provide transportation services for passengers traveling from Chinese mainland, Hong Kong and Macao.(www.chinabuses.org)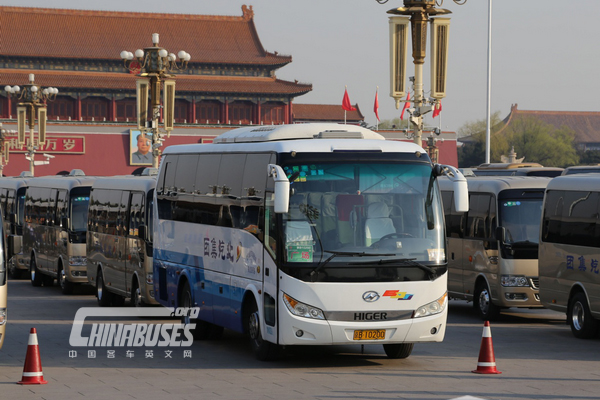 Editor:ida
Related China Bus News