100 Units Sunlong Electric Buses to Start Operation in Beijing
2018-06-26 Author: Source:www.chinabuses.org
Summarize:Recently, a grand ceremony was held in Beijing to mark the delivery of 100 units Sunlong SLK6118ALE0BEVS6 electric buses to their customer, Beijing ShenWei Lion Star Auto Service Co , Ltd (hereafter referred to as ShenWei Lion Star) It is also the second time for ShenWei Lion Star to make purchases from Sunlong
Recently, a grand ceremony was held in Beijing to mark the delivery of 100 units Sunlong SLK6118ALE0BEVS6 electric buses to their customer, Beijing ShenWei Lion Star Auto Service Co., Ltd. (hereafter referred to as ShenWei Lion Star) It is also the second time for ShenWei Lion Star to make purchases from Sunlong.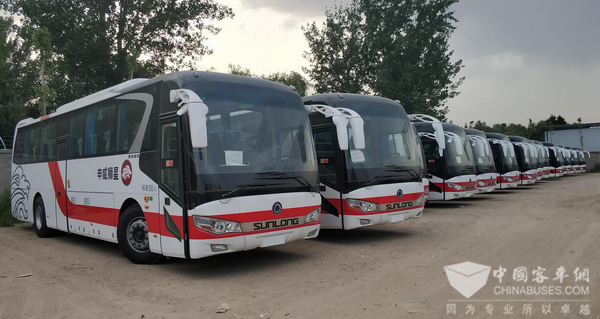 Sunlong SLK6118ALE0BEVS6 electric bus has already won wide recognition among customers thanks to its high energy efficiency, smooth operation and a host of travel comforts for passengers. Featuring longer continuous driving distances, higher safety standards, higher maneuverability and more intelligent management, the vehicle has helped its customers cut their operating costs to the minimum. To further improve customers' overall satisfaction, Sunlong has upgraded its aftersales services, which are delivered in a more timely manner.
Set up in 2001, ShenWei Lion Star boasts 1,200 units vehicles, including 1,100 units new energy vehicles and 100 units passenger vehicles. It is specialized in providing various transportation services and plays a significant role in the capital's transportation market.
Since its establishment in 2005, Sunlong has successfully developed a wide spectrum of new energy buses. In 2017, the company's sales volume of new energy buses accounted for over two thirds of its total and thus it made its way to the Top Five Players in China's new energy bus industry.(www.chinabuses.org)
Editor:ida
Related China Bus News