CATL Soon to Enter Japanese Market
2018-05-21 Author: Source:www.chinabuses.org
Summarize:It is revealed that Contemporary Amperex Technology Limited (CATL), which is headquartered in Ningde, Fujian province, will set up its sales office in Yokohama, Japan, marking a new milestone for the company's globalization By the end of this year, a special team of technicians will be sent to Japan to provide timely technical support for local customers
It is revealed that Contemporary Amperex Technology Limited (CATL), which is headquartered in Ningde, Fujian province, will set up its sales office in Yokohama, Japan, marking a new milestone for the company's globalization. By the end of this year, a special team of technicians will be sent to Japan to provide timely technical support for local customers.
In order to gain a solid foothold in Japan, CATL will strengthen its marketing efforts to a number of well-renowned auto makers in the country, Toyota, Honda and Nissan.
According to CATL, it aims to further promote the commercialization of electric vehicles and double its annual battery production capacity to 50 GWh by 2020. Thus, it will be the largest manufacturer of batteries for vehicles in the world.
Set up in 2011, CATL has already established long-term cooperative ties with BMW, Volkswagon, and GM. In its 2017 financial year, it boasted a sales revenue of 19.9 billion RMB, up by 34% year on year. Also in 2017, its net profits grew by 31% year on year, reaching 3.9 billion RMB.
In April this year, CATL was officially listed on Shenzhen Stock Exchange. It successfully raised 13.1 billion RMB, which will be invested to increase its production capacity. In addition, it plans to set up its own factories in Europe and USA.
In 2017, CATL boasted a battery production volume of 23GWh. Its battery production volume will reach 30GWh in 2019 and 50GWh in 2020.
According to Techno Systems Research, CATL's battery production volume doubled in 2017 when compared with that in the previous year. As the fastest growing company in the industry, CATL is set to become the world's largest vehicle battery producers.(www.chinabuses.org)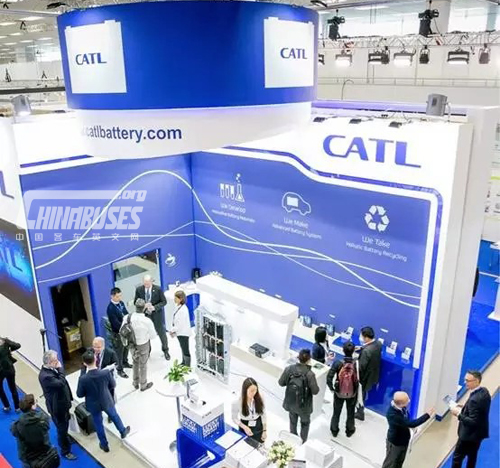 Editor:ida
Related China Bus News