50 Yutong full electric buses delivered to Changdao Island
2018-05-14 Source:www.chinabuses.org
Summarize:On April 24, 50 units of Yutong full electric buses were officially delivered to Changdao Island, Shandong province It means that the electrification degree of public transport in the Changdao Island has reached 100%, marking that Changdao Island has become the first island county which entered the era of full electric passenger transportation This has created a "Changdao Island model" for the transport construction of national and even global ecological islands
On April 24, 50 units of Yutong full electric buses were officially delivered to Changdao Island, Shandong province. It means that the electrification degree of public transport in the Changdao Island has reached 100%, marking that Changdao Island has become the first island county which entered the era of full electric passenger transportation. This has created a "Changdao Island model" for the transport construction of national and even global ecological islands.
Full of blue seas and beautiful scenery, Changdao Island is known as the "celestial mountain on the sea", which has totally 32 islands. Establishing the cooperation with Yutong, three passenger transport companies on the island are trying to build a green tourism and public transport system and keep the blue sky, clear water and lush mountain on the island. Only by building a green transportation system can we sustain the ecology and economy, thus ultimately helping the Changdao Island achieve a sustainable development.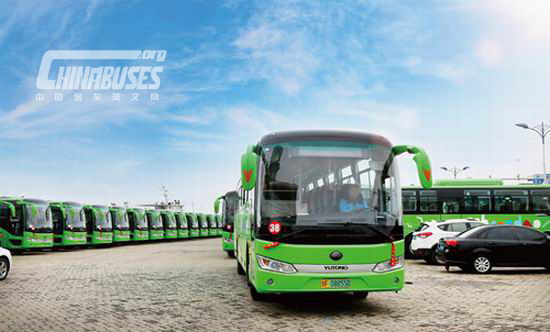 Seeing from the perspective of the relevant person in charge of Changdo Island, there are two reasons why they introduced Yutong full electric buses: first, Yutong is an influential brand, and its sales volume ranked first for many years, therefore it is trustworthy; second, the quality of Yutong full electric products is very good.
The buses delivered this time are Yutong ZK6115BEVG5 full electric buses. It is 10.7 meters long, 2.5 meters wide and 3.2 meters high, with 46 seats. It features zero emission, low noise and high energy conversion efficiency with a driving range up to 180 kilometers. It can adapt to the complex road conditions of the island, stand the test of sea winds and sea salt corrosion, and meet the operational needs of tourism and public transport on the island, which will improve and optimize the overall ecological conservation of the Changdao Island.
Vigorously developing the tourism and public transport with full electric vehicles and actively advocating the green travel are of great practical significance to promote the development of a low-carbon economy and accelerate the ecological construction of the Changdao Island. The entry of this batch of Yutong full electric buses will bring a new leap-forward development for Changdao Island.
Yutong will also make efforts to shoulder the mission of marine ecological protection and sustainable development of the Changdao Island. In terms of services, Yutong will do its utmost to ensure the smooth operation of its full electric vehicles. And in terms of products, Yutong will help the island to improve its ecological environment with eco-friendly products, and provide diverse, efficient and reliable carbon-free transportation solutions to the Changdao Island.(www.chinabuses.org)
Editor:ida
Related China Bus News