Foton AUV Fuel Cell Bus Shines at Auto China 2018
2018-05-07 Source:www.chinabuses.org
Summarize:On April 25, Auto China 2018 officially kicked off in Beijing Foton AUV brought its fuel cell bus BJ6852 on display, attracting wide media and public attention Also at its exhibition booth, visitors have opportunities to gain an intimate knowledge about hydrogen, hydrogen fuels and fuel cell buses through a multimedia platform
On April 25, Auto China 2018 officially kicked off in Beijing. Foton AUV brought its fuel cell bus BJ6852 on display, attracting wide media and public attention. Also at its exhibition booth, visitors have opportunities to gain an intimate knowledge about hydrogen, hydrogen fuels and fuel cell buses through a multimedia platform.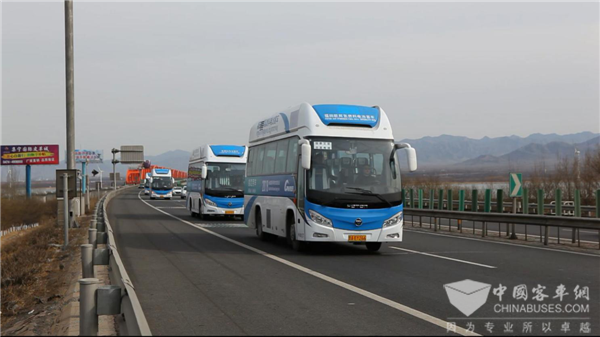 With the release of its new generation fuel cell buses, Foton AUV has further strengthened its overall competitiveness in the global market. Now, boasting a wide spectrum of fuel cell vehicles, Foton AUV has made several breakthroughs in reducing the production costs of fuel cells and improving their life expectancy. In addition, Foton AUV fuel cell bus has successfully passed a series of stringent tests in some demanding working conditions with an altitude of 1,700 meters or an temperature as low as minus 46 degrees.
After the establishment of Fuel Cell Industrial Alliance, Foton AUV fuel cell buses have made their appearance at several high-profile events, including 2017 and 2018 China EV100 Forum and 2018 Great Wall International Renewable Energy Forum. In addition, they have been working smoothly between Beijing and Zhangjiakou, realizing long-distance operation and fully demonstrating their high reliability and high energy efficiency.
By 2020, China's production capacity of hydrogen fuels will reach 72 billion cubic meters. In addition, the country plans to build 100 hydrogen fuel refilling stations and put 10,000 units fuel cell vehicles on the road. By then, the industrial output is expected to reach 300 billion RMB.(www.chinabuses.org)
Editor:ida
Related China Bus News