Golden Dragon Launches a Nationwide Tour in Tianjin
2018-04-24 Source:www.chinabuses.org
Summarize:On April 18, Golden Dragon officially launched a 60-day nationwide tour in Tianjin During the two-months trip, the bus maker will travel fifteen cities across China, showcasing its latest products and technologies
In February this year, Golden Dragon ranked the first place among all Chinese bus players in the sales of buses measuring five-meters in length and above.
On April 18, Golden Dragon officially launched a 60-day nationwide tour in Tianjin. During the two-months trip, the bus maker will travel fifteen cities across China, showcasing its latest products and technologies.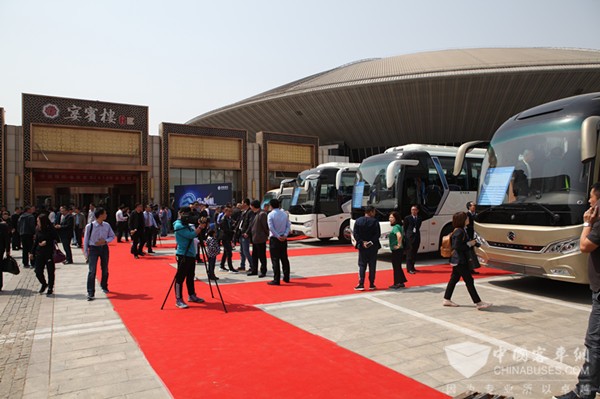 On the first day, over 160 customers in Tianjin gathered to exchange views on the future development trend in the transportation market. Navigator, new Triumph, new Splendor and Coaster were also put on display. In the exhibition area, visitors showed a keen interest in Navigator, which has successfully made a solid presence in a number of countries abroad.
"Through holding a nationwide tour, we hope more customers can gain a deeper understanding of our products and our brand," said Lai Zhiyi, Director of Golden Dragon Domestic Sales.
In the face of increasing competition from the high-speed railways and shared vehicles, bus makers and bus operators are all compelled to find a way out. The four vehicles on display in Tianjin fully demonstrate Golden Dragon's bus-making philosophy which gives top priorities to improved passenger-friendliness, higher safety standards, more advanced technologies.
Jointly developed by Golden Dragon, UK-based DCA and Germany-based Benz, Navigator is internationally competitive both in its aesthetic design and performance. As the latest fist product of Golden Dragon, the vehicle well epitomizes the bus maker's innovative spirit and its rich experience in the bus-making industry.
New Triumph has gone through a series of optimization, targeting at passenger transportation market, tourist transportation market and commuting services. It boasts strong profitability, high fuel economy, high safety standards and more travel comforts.
New Splendor has fossil fuel powered driveline and new energy driveline available. In terms of appearance, safety standards, energy efficiency and travel comforts, the vehicle has also made tremendous progress, creating thicker profit margins for its customers.
The new generation Coaster inherits all the strengths of its predecessors and assumes a more visible air of luxuriousness. Powered by either a high-performing diesel engine or gasoline engine, it is technologically superior to its domestic counterparts. With a lighter body, the vehicle achieves higher fuel economy and provides more travel comforts for passengers.
Despite the shrinking road transportation market, Golden Dragon has managed to maintain a steady growth in recent years thanks to its relentless efforts to upgrade its products and services.
"There is a Chinese saying which goes 'a man who does not have distant care must have near sorrow.' As a company, we cannot afford to stay idle in this fast-changing world," said Lai Zhiyi. To outmaneuver its rivals and strengthen its international competitiveness, Golden Dragon has made breakthroughs in the following areas.
First, it has redefined the travel comforts for both drivers and passengers. For drivers, the ergonomically designed seat provides a more unobstructed view and help drivers get more focused on driving. For passengers, a more sensual traveling experience is made available through the visual, olfactory, auditory devices and materials on board.
Second, Golden Dragon has successfully helped its customer create more values through cutting the weight of its buses and lowering their wind drag and energy consumption to the minimum.
Third, Golden Dragon self-driving buses are soon to become commercially available. In June 2017, Golden Dragon self-driving bus started working in China's first state-level intelligent internet-connected vehicle pilot zone in Shanghai. It successfully completed a five-kilometer trial operation.
Fourth, Golden Dragon has been taking a number of measures to improve its after-sales services, aiming to further improve its customers' satisfaction.(www.chinabuses.org)
Editor:ida
Related China Bus News