Malaysia Raya Khas Launches Golden Dragon Van
2018-03-13 Author: Source:www.chinabuses.org
Summarize:The event also witnessed the launching ceremony of Raya Khas's new Golden Dragon Van model, a 14-seater capacity van with safety features such as anti-lock braking system, electronic brake distribution and airbags
KUCHING Malaysia: Assistant Minister of E-Commerce Datuk Mohd Naroden Majais launched the new Raya Khas building at Jalan Tun Razak, Kuching By-Pass here yesterday.
The event also witnessed the launching ceremony of Raya Khas's new Golden Dragon Van model, a 14-seater capacity van with safety features such as anti-lock braking system, electronic brake distribution and airbags.
In his speech, Naroden said the Internet offers everyone the same level of playing field, regardless of whether they are in the urban or rural areas.
In terms of business, it also does not matter how big or small your company is as long as you are able to fully utilise the Internet to market your products.

Naroden, who was representing the Chief Minister, Datuk Patinggi Abang Johari Tun Abang Openg at the event, said people should support the state government's digital economy project for the sake of development and the next generation, which in turn will also affect the state and nation.
"We are entering the era of digital economy. Times have changed and now it is easier to obtain information.
"While in the past we had to go through newspapers, books, radio and television, information is now at our fingertips with a touch of the button, a single tap, or the click of our mouse, and we get information in real time.
"This is why the state government is investing a lot of money to improve Internet connectivity, especially in the rural areas, so that everyone can do their business online," he said.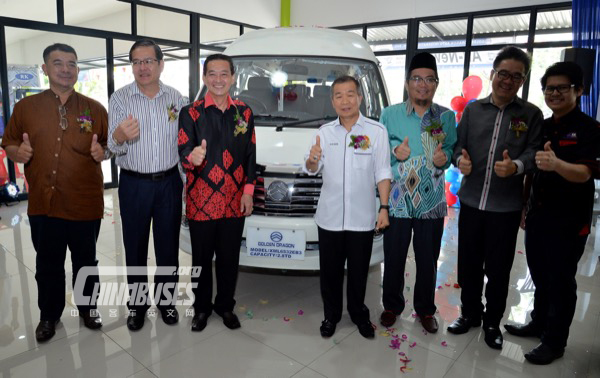 Thumbs-up to the new Golden Dragon Van
Meanwhile, Raya Khas Group gave donations (amount unspecified) to Lembaga Amanah Islam Igan (LAKI) and Muslim Welfare Organisation Malaysia (PERKIM).
Those who wish to know more about the new van may visit Raya Khas at Lot 1551, Section 64 at Jalan Tun Razak.
Alternatively, they may also drop by one of their showrooms in the state – at Sejingkat Industrial Estate (Kuching) and Jalan Miri-Bintulu (Miri).
Editor:ida
Related China Bus News