King Long Serves 2018 "Two Sessions"
2018-03-06 Author: Source:www.chinabuses.org
Summarize:From March 3 to 5, the 13th National People s Congress (NPC), China's top parliamentary body, and China's People's Political Consultative Conference (CPPCC), China's top political advisory body, convened its annual sessions, also known as the "two sessions" in Beijing
From March 3 to 5, the 13th National People's Congress (NPC), China's top parliamentary body, and China's People's Political Consultative Conference (CPPCC), China's top political advisory body, convened its annual sessions, also known as the "two sessions" in Beijing.
King Long Longwin II, which represents the highest bus manufacturing technologies, is among thousands of vehicles serving delegates from all over China. Having been designated as the carriers for the "two sessions" for eighteen consecutive years, King Long has long been recognized as the "National Vehicle", setting the service standards a number of high-profile events in China.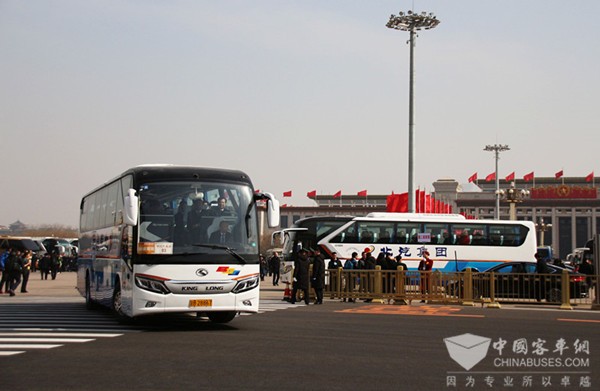 In 2001, King Long XMQ6115 was selected as the service vehicle for the annual "two sessions", marking a new milestone in King Long's history. In 2008, King Long Longwin I made its first appearance at the two sessions and immediately rose to stardom.
In 2017, King Long Longwin II made its debut, making big splashes in the global bus manufacturing industry. Having successfully entered EU markets and appeared at a number of high-profile events, it was the undoubtedly the first choice for this year's two sessions.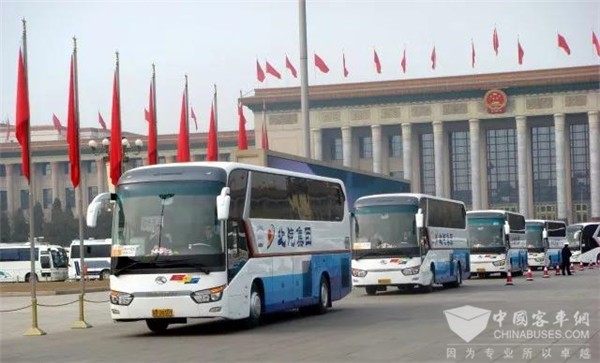 King Long Longwin II, also known as 6127BY, has gone through a number of adjustments before its final delivery to Beijing for the events. Boasting rich experience in serving many domestic and international events, King Long will accomplish its transport tasks by delivering greener and more comfortable services for all delegates.(www.chinabuses.org)
Editor:ida
Related China Bus News