Foton AUV Electric Buses Entered South Korea for 2018 Pyeongchang Winter Olympic Games
2018-02-05 Author: Source:www.chinabuses.org
Summarize:On January 25, Foton AUV electric buses entered South Korea to serve 2018 Pyeongchang Winter Olympic Games South Korea-based KBS and G1TV all compiled thorough reports
On January 25, Foton AUV electric buses entered South Korea to serve 2018 Pyeongchang Winter Olympic Games. South Korea-based KBS and G1TV all compiled thorough reports.
As the first Chinese bus maker to enter South Korea, Foton AUV is set to demonstrate its formidable strengths in the global market.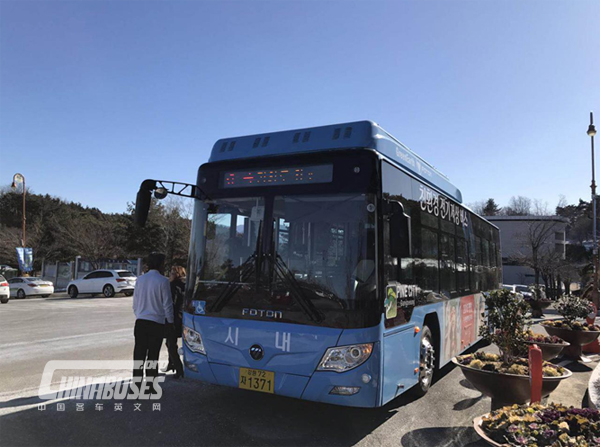 With a global vision since its establishment, Foton AUV has always been committed to developing and manufacturing new energy buses. It successfully rolled out China's first batch of hybrid city buses which officially went into operation in Guangzhou. It has diversified its product line and its wide range of new energy buses have made their appearance at a number of high-profile events, such as G20 and APEC.
Foton AUV's official entry into South Korea marks a new milestone in the bus maker's globalization. In 2016, Foton AUV obtained South Korea's new energy product certificate. In September, Foton AUV appeared at South Korea New Energy Bus Promotional Campaign, attracting wide media and public attention.
In September, 2017, at a New Energy Product Exhibition held in Pyeongchang, Foton AUV successfully secured the order from the organizing committee of Pyeongchang 2018 Winter Olympic Games.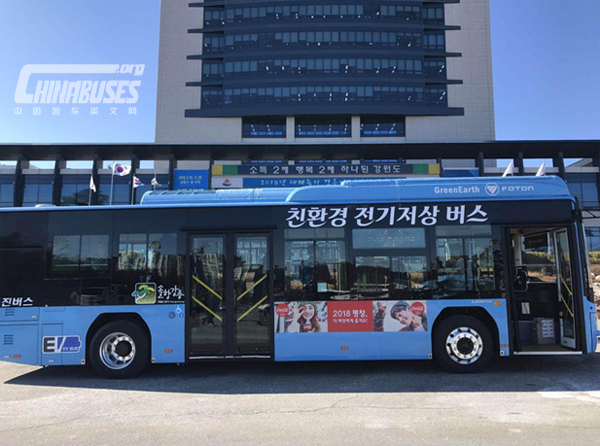 From October 2016 to September 2017, Foton AUV launched a nationwide tour in South Korea, fully demonstrating the formidable strengths of China's bus manufacturing technologies.
On December 15, 2017, Foton AUV BJ6105 electric city buses officially entered Gangneung. On December 29, 2017, Foton AUV BJ6105 electric city buses officially started operation, making big splashes. Making little noises and generating zero emissions, BJ6105 electric city bus is designed with low entry access, providing more convenience for those handicapped passengers. According to KBS, Foton AUV electric city buses have greatly improved the city image of Gangneung, ushering a brand new era for South Korea's public transport.
Despite the demanding conditions in South Korea, Foton AUV BJ6105 electric city bus can run 120 km continuously after being recharged for 30 minutes. In addition, it can cut fuel costs by 30% compared with those fossil-fueled powered buses. Currently, Gangneung boasts the largest number of electric city buses in South Korea. According to sources, the city will continue to make heavy investments to introduce more environmentally friendly buses to further enhance its urban image.(www.chinabuses.org)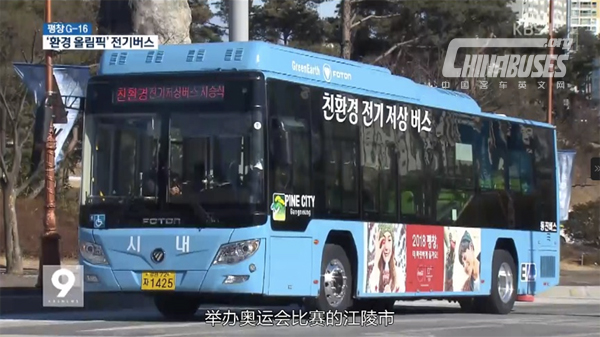 Editor:ida
Related China Bus News