300-plus Units Golden Dragon Buses Arrive in Gabon
2018-01-30 Author: Source:www.chinabuses.org
Summarize:Recently, over 300 units Golden Dragon buses, including 100 units XML6105 city buses, 200 units KAST and four units Sealions, arrived in Libreville, the capital city of Gabon, ushering a brand new era of public transport for the country
Recently, over 300 units Golden Dragon buses, including 100 units XML6105 city buses, 200 units KAST and four units Sealions, arrived in Libreville, the capital city of Gabon, ushering a brand new era of public transport for the country.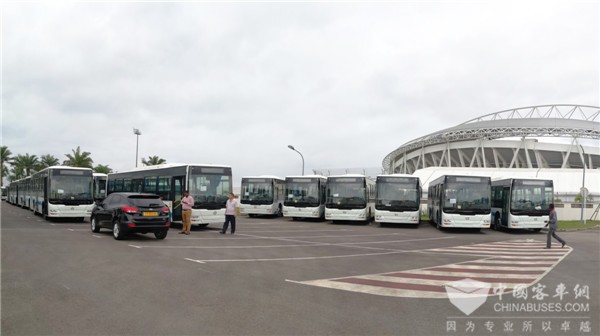 Since the official establishment of diplomatic ties with Gabon in 1974, China has been cooperating with the country in a wide range of fields. China-Gabon Friendship Stadium for example, which finished its construction in 2011, is now a landmark in Libreville .
From December 6 to 9, 2016 Gabonese president paid a state visit to China, expressing the country's sincere hope for deepening ties between the two countries and further cooperation in energy and infrastructure sectors.
"Our success in Gabon is a result of our years preparation work, the increasing influence of our brand, the improved quality of our bus products and the more connected service networks," said Jiang Yonghui, General Manager of Golden Dragon Overseas Sales Company.
To suit the special road and weather conditions in Gabon, Golden Dragon has done thorough researches and finally rolled out customized transportation solutions.
It is revealed that all Golden Dragon buses are equipped with intelligent systems, including intelligent bus dispatch systems, City Bus ERP systems, Video Monitoring Platforms, E-card system, Passenger Counting Systems, etc.(www.chinabuses.org)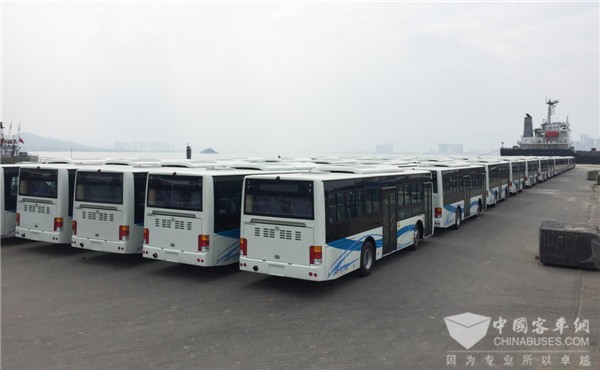 Editor:ida
Related China Bus News