Higer Buses Play a Key Role in China's Spring Festival Travel Rush
2018-01-29 Author: Source:www.chinabuses.org
Summarize:As China's lunar new year is approaching, Higer bus fleets in various places across China are getting ready to serve a surge of passengers during the travel rush which will start on January 1 and end on March 12 this year
As China's lunar new year is approaching, Higer bus fleets in various places across China are getting ready to serve a surge of passengers during the travel rush which will start on January 1 and end on March 12 this year.
According to Chen Liang, a director of Higer Service Station at Hebei Baoding Transport Group, this bus operator has over 300 units Higer buses in operation at present. During the Spring Festival travel rush, all of them will be put into service. On January 8 this year, the company has already made concrete plans to make sure the smooth flow of passengers during the peak travel season.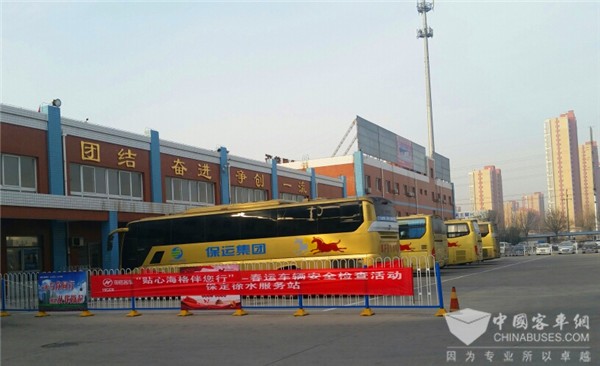 To ensure the safety of all passengers during the travel season, Higer has also launched 2018 Spring Festival Vehicle Safety Check-ups Program. According to the bus maker, it has been paying special visits to its customers and conducting free check-ups on its vehicles since January 5 this year, making sure that every Higer bus runs smoothly during China's lunar new year.
Higer Bus Call Center has already sent text messages to all its customers and provided heart-warming tips for safety operation on its wechat platform. In addition, its intelligent distance monitoring platform is providing around-the-clock services for all its vehicles. To deal with extreme weather conditions, it has set up Emergency Teams in various cities.(www.chinabuses.org)
Editor:ida
Related China Bus News