Dongfeng Cummins ISD Won China's Most Trusted Highly Efficient Medium-sized Engine Award
2018-01-26 Author: Source:www.chinabuses.org
Summarize:On January 18, the third "Discovery-Trust"---China Truck User Survey & Awarding Ceremony, which was hosted by Chinatruck org, was held in Beijing On the back of its high fuel economy, high efficiency, a great pool of customers, Dongfeng Cummins ISD series engine won China's Most Trusted Highly Efficient Medium-sized Engine Award
On January 18, the third "Discovery-Trust"---China Truck User Survey & Awarding Ceremony, which was hosted by Chinatruck.org, was held in Beijing. On the back of its high fuel economy, high efficiency, a great pool of customers, Dongfeng Cummins ISD series engine won China's Most Trusted Highly Efficient Medium-sized Engine Award.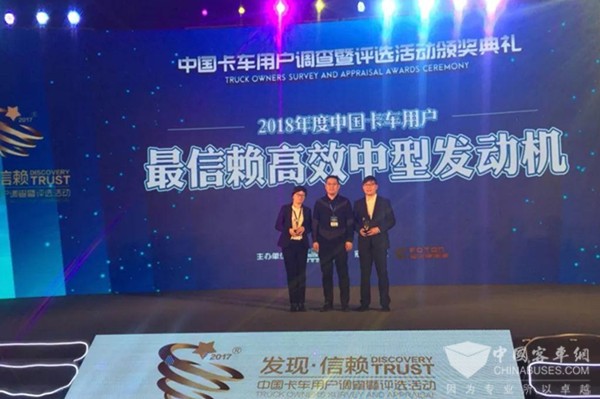 Dongfeng Cummins ISD series engine is chiefly targeted at light and medium-sized diesel powered trucks.Currently, it has two models available, namely 4.5 L and 6.7 L.
With a nominal horsepower (NHP) ranging from 190P to 300P and a maximum torque of 1,100 N.m,the ISD6.7 L engine is fully able to meet demanding operation requirements in various working conditions.
With four/six cylinders with four intakes for each cylinder and Bosch high-pressure common-rail fuel injection system, and three-grade filtration, the engine further helps improve the vehicle's overall performance, its fuel economy and cold start performance.
By adopting high-strength composite materials and advanced manufacturing technologies, ISD engine with a net weight of 456 kg, has successfully gone through fatigue tests.
Currently in China, Dongfeng Tianjin, Dongfeng Tianlong, Liuqi Chenglong, JAC Shuailing are all equipped with ISD engines.ALso worth mentioning is that Dongfeng Tianlong won 2018 China's Most Trusted Fast Delivery Truck Award. A number of customers also speak highly of IDS engines impressive performances, saying "they are highly reliable and fully capable of meeting demanding tasks for fast delivery services."(www.chinabuses.org)
Editor:
Related China Bus News