King Long Delivers 75 Coaches to Ulan Muqir Troupes
2018-01-25 Author: Source:www.chinabuses.org
Summarize:Meaning "red bud" in the Mongolian language, Ulan Muqir troupes are a cultural promotion team adapted to the life and production on the prairie They are not only a banner on the artistic front nationwide, but also a signature and pride of Inner Mongolia in the realm of outward cultural exchanges Over the past 60 years, members of Ulan Muqir troupes, generation after generation, have traveled throughout the Gobi desert and prairie to perform for herdsmen in Inner Mongolia, bringing them joy and happiness
On January 21—a -8°C winter day, little snowflakes were falling from the sky. Despite the cold weather, members of Ulan Muqir troupes were so excited about the incoming coaches specially procured for them. The artists, all dressed up in gorgeous ethnic costumes, were joyfully waiting on Ulan Chiat Square, Hohhot for the delivery of coaches customized by King Long.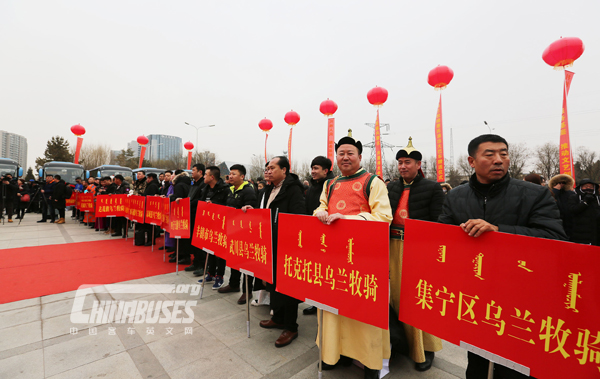 The handover ceremony of coaches to Ulan Muqir troupes
Meaning "red bud" in the Mongolian language, Ulan Muqir troupes are a cultural promotion team adapted to the life and production on the prairie. They are not only a banner on the artistic front nationwide, but also a signature and pride of Inner Mongolia in the realm of outward cultural exchanges. Over the past 60 years, members of Ulan Muqir troupes, generation after generation, have traveled throughout the Gobi desert and prairie to perform for herdsmen in Inner Mongolia, bringing them joy and happiness.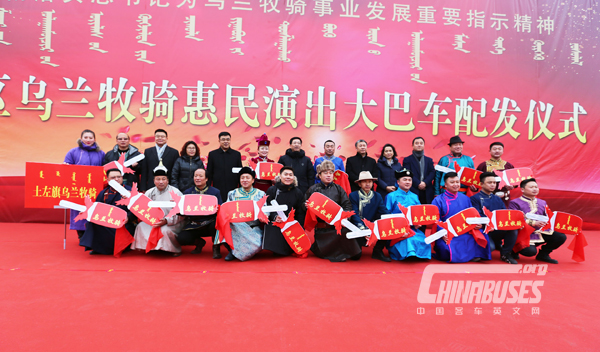 Representatives of Ulan Muqir troupes accept the "golden keys" to the coaches, which herald a new chapter of the artists' journey
In order to thoroughly implement the guiding principles from General Secretary Xi Jinping's important instructions on the development of Ulan Muqir troupes, and to fundamentally solve the practical difficulties faced by Ulan Muqir troupes to tour around the countryside, the People's Government of Inner Mongolia Autonomous Region, following its procurement procedure, purchased one coach for each of the 75 Ulan Muqir troupes in the region.
All of the 75 coaches are the new series 5 XMQ6105AY creatively manufactured by King Long in 2017 on the basis of its classic 2016 models. These coaches are the new-generation, top-quality and highly cost-effective road model for they have been technically upgraded and modified based on the actual needs of Ulan Muqir troupes to tour around countryside. Besides, considering the bitterly cold winter in Inner Mongolia, independent heating system and double glazing, among others, are mounted on the coaches to withstand the cold, even at -40°C. As many as seven radiators are equipped in each coach, along with WIFI access and USB interfaces, in a bid to allow performers enjoy their ride. Intelligent speed limiters are also installed in these coaches to ensure road safety.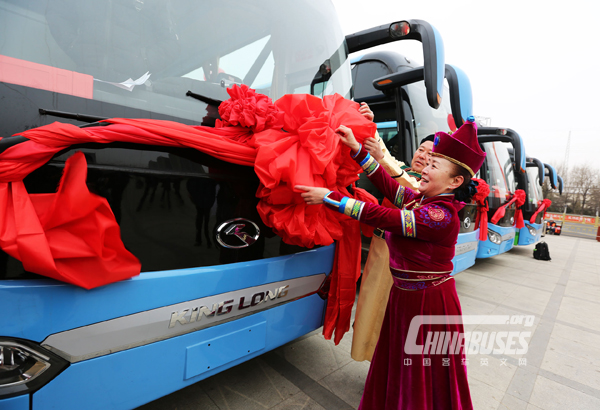 Members of Ulan Muqir troupes tie flower-shaped knots on the King Long coaches
Ulan Muqir troupes bring over 7,000 performances to the audiences each year. In the past, they had to go through the trouble of renting coaches or riding in sedans to tour around the countryside. Now they have their own coaches to take them to their audiences. To help members of Ulan Muqir troupes capitalize on the coaches in a faster and better manner, King Long has not only set up service stations in each Banner of Inner Mongolia, but also arranged staff to train their drivers, so as to ensure a safe ride.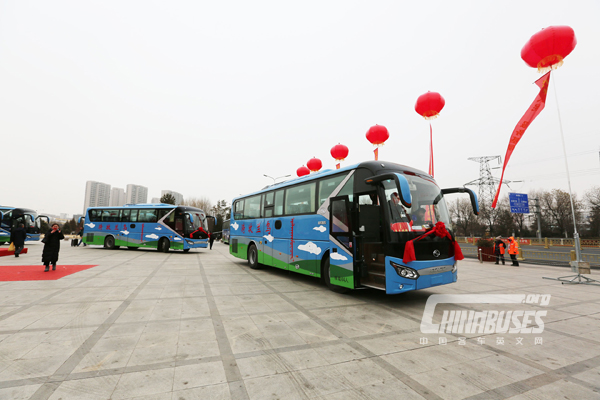 Coaches of Ulan Muqir troupes will carry the craftsmanship of King Long further
Ulan Muqir troupes have performed in ever changing settings over the past decades, but they remain true to their original aspiration and mission to serve the grass-root farmers and herdsmen. In the future, King Long coaches will take the members of Ulan Muqir troupes to every corner of the prairie to fulfill their commitment of serving the people.(www.chinabuses.org)
Editor:ida
Related China Bus News