Sailing Along the Silk Road—King Long's Expedition in 2017
2018-01-09 Author: Source:www.chinabuses.org
Summarize:With the shipment of the buses to Bolivia, Spain and Chile at the end of 2017, King Long successfully completed the "expedition" for 2017
With the shipment of the buses to Bolivia, Spain and Chile at the end of 2017, King Long successfully completed the "expedition" for 2017.
In 2017, King Long continued to mount aggressive marketing campaigns in overseas markets. In immediate response to " the Belt and Road" initiative, King Long embarked on an expedition along the Silk Road, exporting over 8,000 buses of various types to over 80 countries and regions and setting yet another golden milestone in export sales.
Prosperity reemerges along " the Belt and Road"
In 2017, the export of King Long buses in countries along "the Belt and Road" continued to maintain a momentum of positive development and large orders kept rushing in:
During the 2017 Spring Festival, a batch of King Long buses departed for Saudi Arabia, pushing the total export volume to nearly 800 in the year and making King Long the Chinese bus brand with the largest number of buses exported to this market;
In the same year, King Long exported more than 100 high-quality buses to the United Arab Emirates in the Persian Gulf region and continued to dominate this market;
In addition to its explosive growth in the Philippine market in 2016, King Long maintained strong export growth in 2017, selling more than 200 buses to this market.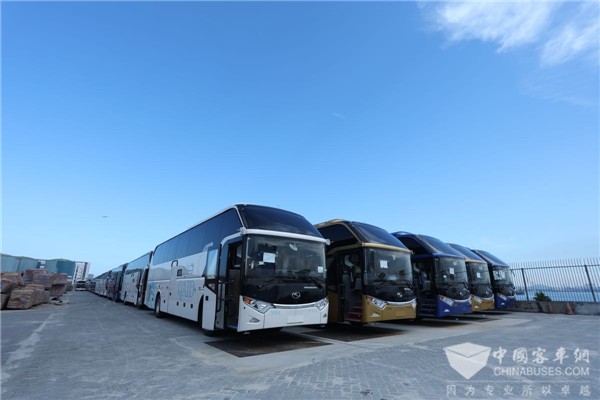 King Long's high-end buses departing for Saudi Arabia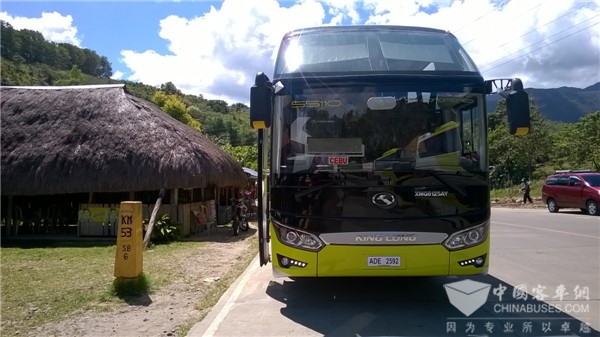 King Long buses running in the Philippines
While leading the export market of traditional buses, King Long injected new vitality into bus cooperation under "the Belt and Road" initiative by launching the export of electric buses.
In 2017, King Long worked with public transportation customers in Taiwan in developing fast-charging electric buses, bringing fast-charging microcirculation electric vehicles to Taiwan for the first time. At present, 16 electric buses co-produced by King Long and Taiwan have been put into operation in Kaohsiung City. By providing environmentally-friendly and comfortable experience, the buses has won the favor of both users and passengers. According to schedule, 39 electric buses will be shipped to Kaohsiung in the near future. In addition, King Long also exported electric products to Hong Kong and Thailand, and trial operations have been carried out successfully.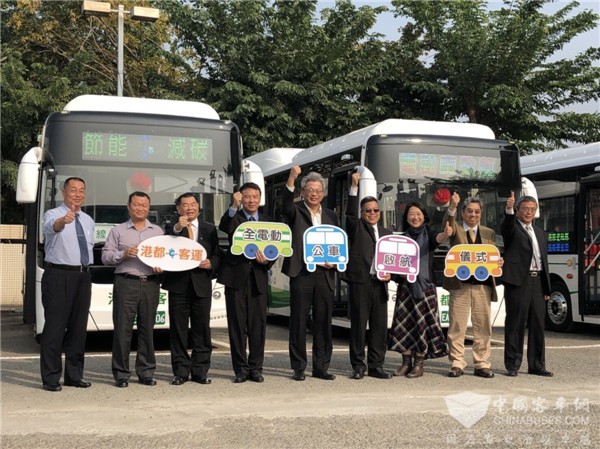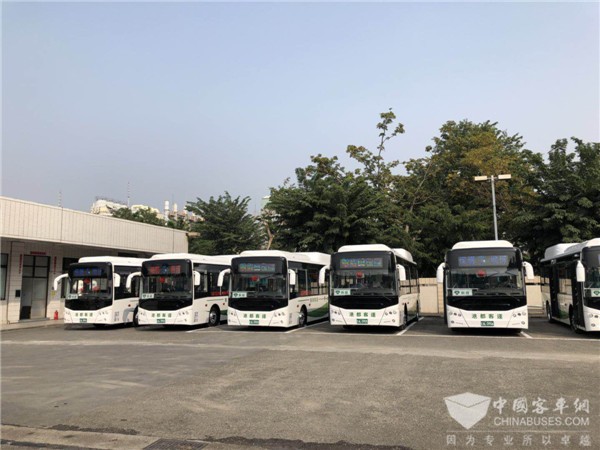 First batch of fast-charging microcirculation electric buses bringing to Taiwan
International capacity-building cooperation is an important approach and a major move to jointly build "the Belt and Road". King Long has stepped up capacity-building cooperation with countries along "the Belt and Road" and built assembly lines in countries like Malaysia, Egypt, Nigeria, Tunisia, etc., giving full play to its potential in bus manufacturing so as to achieve mutual benefit and forge towards win-win future.
A new expedition on rising wind
As BRICS cooperation sets sail again, King Long and the members of BRICS entered a new phase. This year, King Long's export to Russia continued to top the chart in the industry. Thousands of King Long buses are rolling along on the vast land of Russia. As the most famous and prestigious bus brand for group use and tourism use, King Long's services are highly recognized in the local market.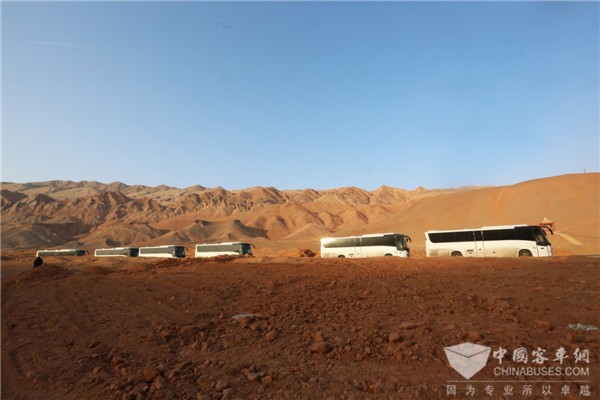 King Long buses traveling thousands of miles on their way to Russia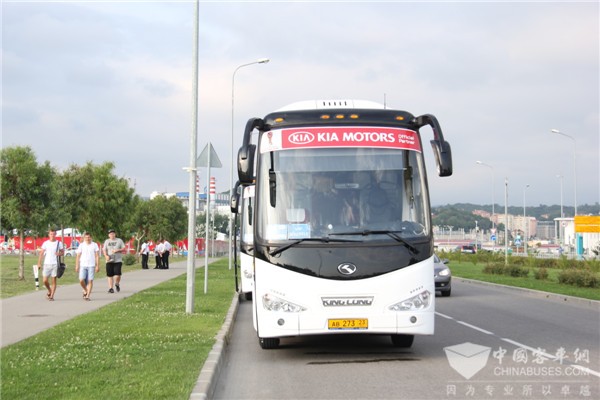 King Long buses serving the FIFA Confederations Cup
King Long buses have also served major events. They shuttled between the various venues at this year's Confederations Cup held in Russia, transferring distinguished guests such as referees and service staffs. Its strength in the Russian market was once again witnessed.
In South America, King Long continues to dominate the export market in Chile and Bolivia. It is particularly worth mentioning that King Long minibuses, with an export volume of 3,246 in the year, prevailed in Bolivia, winning the sales championship for the fourth consecutive year in the local market. Since entering the market in 2012, nearly 13,000 King Long minibuses have been exported to Bolivia and earned a good reputation.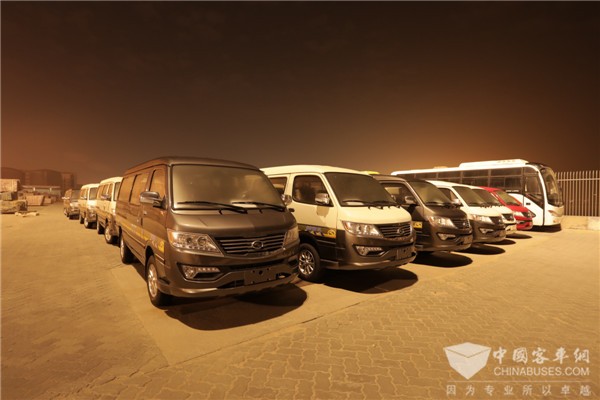 Minibuses awaiting shipment to Bolivia late at night
High-end King Long buses making debut in Europe
In October 2017, King Long launched its 2nd Generation C13HD of the Longway series, fully-upgraded minibus C9, 18-meter BRT, and 14-meter electric shuttle bus APE14 at the Busworld in Belgium, and for the first time exhibited the made-in-China hydrogen-fueled battery bus through VR device on the international stage, fully displaying the high-end ECO buses of King Long.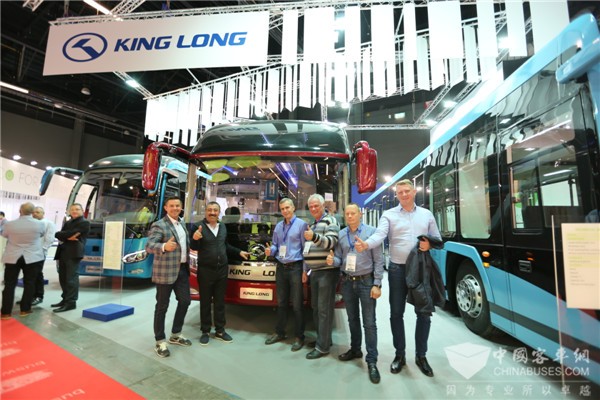 Overseas customers giving King Long the thumbs-up
Major upgrades to King Long's star products brought fresh vitality to the EU market. The 2nd Generation Longway represents China's cutting-edge bus manufacturing technology. It ascended to the European market, attracting numerous customers. The electric shuttle bus APE14 incorporates multiple technologies in itself, catching eyeballs worldwide.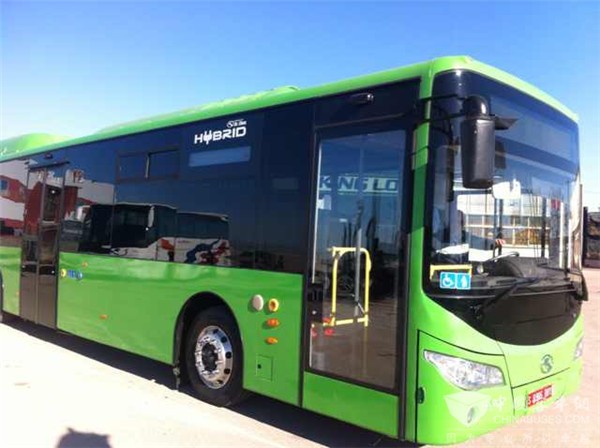 King Long's hybrid buses running in Spain
In addition to the striking exhibition, King Long also made remarkable strides in the EU market this year, thanks to the gradual recovery of the Euro. Among the achievements King Long exported nearly 100 buses to Spain in the year, which enabled made-in-China buses maintaining top the bus export industry in the region.
To rise up to new challenges, King Long will once again hoist sails to brave the winds and waves ahead!(www.chinabuses.org)
Editor:ida
Related China Bus News