Mercedes-Benz Powertrain Asia Tour Arrives in Xiamen
2017-12-07 Author: Source:www.chinabuses.org
Summarize:XIAMEN – Recently, Mercedes-Benz Powertrain Asia Tour arrived in Xiamen, the second of its destination Mercedes-Benz Powertrain systems, boasting high environmental friendliness, high quality standards, high reliability and advanced technologies, are set to help Golden Dragon buses further strengthen their presence in the global markets
XIAMEN – On November 8, Mercedes-Benz Powertrain Asia Tour arrived in Xiamen, the second of its destination. Mercedes-Benz Powertrain systems, boasting high environmental friendliness, high quality standards, high reliability and advanced technologies, are set to help Golden Dragon buses further strengthen their presence in the global markets.
Cheng Shenghui, head of Mercedes-Benz Powertrain China paid a special visit to Xiamen in order to promote the company's wide spectrum of products. He attended Golden Dragon's press conference for the release of its high-end vehicle, expressing his hope for deepening ties between Mercedes-Benz and Golden Dragon.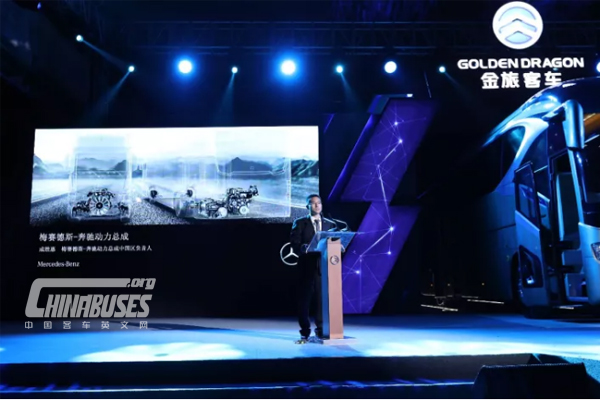 Cheng Shenghui, head of Mercedes-Benz Powertrain China
At the press conference, Cheng spoke highly of Golden Dragon's achievements, saying "it maintains a leading position in many different fields, such as bus monocoque body structures, bus safety, environmental friendliness, energy conservation." As an enterprise specialized in researching, developing, producing and selling high-end and luxury buses and coaches, Golden Dragon boasts a wide spectrum of bus products and a number of independently owned intellectual property rights.
As an indisputable trail-blazer in the global auto industry, Daimler is committed to providing more powerful and more energy efficient powertrain solutions for both truck and bus makers across the world. All its time-tested products, such as engines, transmission gearboxes, and axle systems, are designed, manufactured and tested in Germany. In addition, its global after-sales networks offer timely services for its customers across the world. In her speech, Cheng expressed the company's full commitment to helping Golden Dragon build more luxury and more competitive buses and coaches for its global customers.
Alexander Klinkner, Head of Mercedes-Benz Powertrain global sales, sent his congratulations via a video clip on the arrival of Mercedes-Benz powertrain systems in Xiamen.
Alexander Klinkner, Head of Mercedes-Benz Powertrain global sales
By joining hands with Mercedes-Benz, Golden Dragon has been gradually introducing a host of powertrain products from the brand, ranging from engines to transmission gearboxes with different specifications and in line with Euro III to Euro VI Emission Standards. By taking full advantage of the technological superiority of Mercedes-Benz, Golden Dragon aims to further enhance its market share and push China's bus manufacturing industry to a new historical height.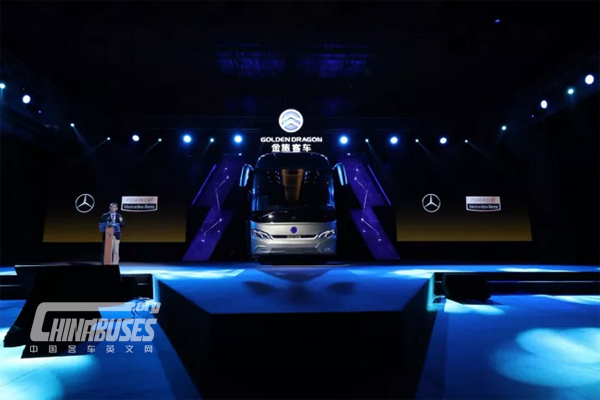 Chen Dulian, General Engineer of Golden Dragon
Mercedes-Benz Powertrain systems consist of diesel- and gas-fueled engines (displacement: 4.3-16 liters; Power: 95-480 kW; Torque: 500-3,000 N.m), both manually and automatically controlled transmission gearboxes (Speed: 6-16 speed; Input Torque: 700-3,300 N.m) and modular front and rear axles (suitable for vehicles with a total body weight of 6.5-44 tons) plus a number of spare parts. With such a wide spectrum of product line, Mercedes-Benz Powertrain system can hardly find any rivals in the global auto market.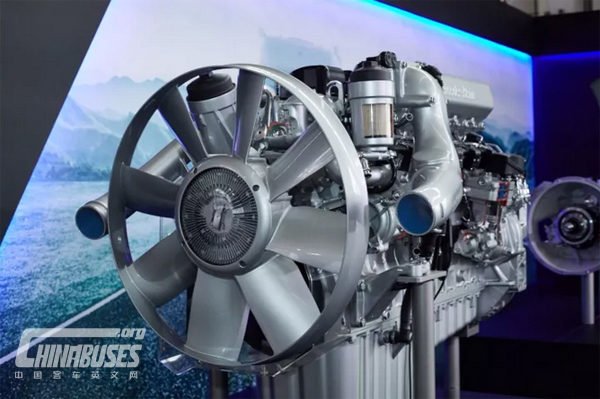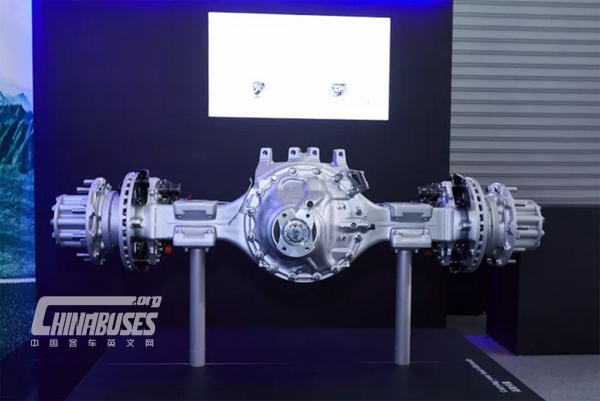 In recent years, China has been rolling up a host of increasingly stringent regulations to curb the rising pollutants into its air. Confronted with a series of new challenges, Mercedes-Benz has never been deterred. Instead, its leading position in the global powertrain system market is still unshakable. Its well-connected global sales networks and first-class after-sales services have gained worldwide recognition from customers.
After its entry into China in 2014, Mercedes-Benz Powertrain system has won a number of customers. Together with Daimler China, it is fully devoted to providing more competitive power solutions for its customers in China and the rest of the world.(www.chinabuses.org)
Editor:ida
Related China Bus News