Foton AUV Takes the Lead in Fuel Cell Bus Development
2017-10-27 Author: Source:www.chinabuses.org
Summarize:On October 18, at the 19th National Congress of China's Communist Party, Chinese president Xi Jinping pointed out that China would continue to adhere to a development concept featuring innovation, coordination, green, open-mindedness and sharing
On October 18, at the 19th National Congress of China's Communist Party, Chinese president Xi Jinping pointed out that China would continue to adhere to a development concept featuring innovation, coordination, green, open-mindedness and sharing. He further emphasized that the country would build a sound economic system that facilitates green and low-carbon and circular development.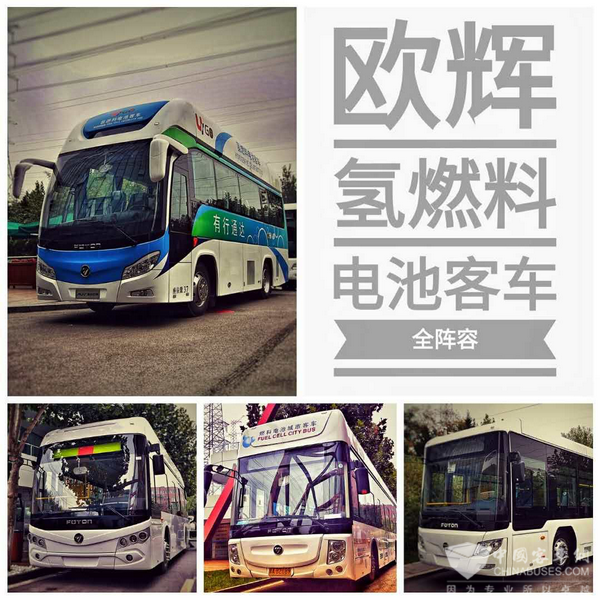 In recent years, governments at various levels have been giving priorities to developing new energy vehicles. So far, China has made a number of breakthroughs.
On October 20, Foton AUV whole series fuel cell buses were revealed to the public, including 8.5-meter city bus, 8.5-meter intercity bus, 10.5-meter city bus and 12-meter city bus. According to the bus maker, its 10.5-meter will soon be put into trial operation in Zhangjiakou, a host city for 2022 Winter Olympic Games.
Wang Gang, Minister of China's Ministry of Science and Technology, paid a special visit to Dongsheng S&T Park, taking a closer look at Foton AUV fuel cell buses. He spoke highly of Foton AUV's latest achievements and the company's relentless efforts for innovation.
As early as 2006, Foton AUV started cooperating with Tsinghua University and Sinohytec in developing fuel cell buses. In 2008, the first generation Foton AUV fuel cell buses were put into operation at Beijing Olympic Games. In 2014, Foton AUV's second generation 12-meter fuel cell buses with low-floor access officially went onto market. Very soon, the bus maker rolled out its third generation 8.5-meter and 10.5-meter fuel cell buses. In 2016, it secured the world's biggest order for fuel cell buses.

"Along with the fast decreasing production costs, Foton AUV fuel cell buses are ready for mass production", said Wang Lei, Director of Foton AUV Bus Technology Research Institute.
"By closely working with our partners, we now can provide a host of services for our customers, including the construction of hydrogen-filling stations, fuel cell bus management and operation, after-sales services, and whole-life-cycle solutions", said Wang.
In 2018, the fourth generation of Foton AUV fuel cell buses are set to make their debut. The next generation fuel cell bus will further cut its weight by 800 kg, which account for 7% of the vehicle's total weight.(www.chinabuses.org)
Editor:ida
Related China Bus News