BYD Comes of Age at Busworld 2017: Europe's Leading Ebus Supplier
2017-10-24 Author: Source:www.chinabuses.org
Summarize:Busworld 2017 in Kortrijk Belgium from 20 October demonstrates BYD leading position as Europe's largest and
Busworld 2017 in Kortrijk Belgium from 20 October demonstrates BYD leading position as Europe's largest and most important supplier of full electric buses, proven to deliver a full day operating capability on a single charge.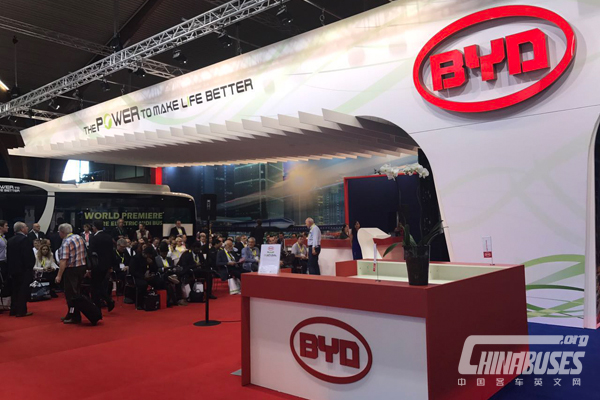 BYD Stand
At the Show BYD will be unveiling the first ever bus it has built itself in Europe – at its new Hungary plant – and using the occasion for the world premiere of its all new low floor European specification Midibus. This new addition augments the BYD range which already covers 10.2, 10.8 and 12m single deckers, an 18m artic, double deckers and an electric coach.
"This our fourth appearance at Busworld and six years ago when we were first here we were the only maker of electric buses. Today we are still the leader. Others have found that the path to delivering fully proven electric vehicles is not easy and none can match our integrated supply chain where we design and produce all of the major components, particularly the all-important batteries", said Isbrand Ho, Managing Director of BYD Europe.
Speaking today at BYD's Busworld media conference, he added: "The battery is the core of any electric bus and it's not straightforward to buy reliable technology off the shelf, as anyone without their own battery design capability has discovered. We are unique in having our own capability. Thanks to the abundant power of BYD's battery technology, in most applications we can avoid the need for opportunity charging, which can be disruptive and expensive. Our ebuses deliver a day's duty cycle on one charge.
"So it's no surprise that we are making real inroads on the streets of Europe's major cities. From Scandinavia to Italy, via Amsterdam Schiphol and London – where we've secured every major electric bus tender so far from Transport for London, we've demonstrated our leadership. But we are confident that we can stay in first place – battery technology will evolve and our team of more than 20,000 R&D engineers are working hard to keep us at the forefront of developments".
At Busworld 2017 BYD's stand is No 135 in Hall 1 and covers almost 500 square metres.
The 12m ebus of display is the first bus ever 100% built by BYD in Europe. It is the first product from BYD's Hungarian factory in Komarom.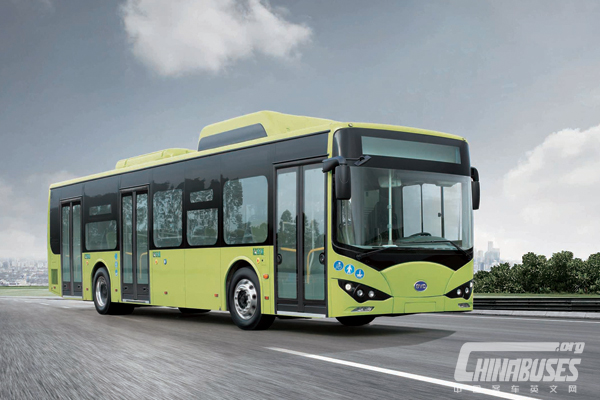 BYD 12m Ebus
The 12m ebus exhibited has a number of features which will also be common to future BYD models including – no batteries in the passenger saloon, new ergonomic drivers compartment, LED lighting and a new automatic fire extinguishing system in the rear compartment.
The BYD Midibus receiving its world premiere at Busworld offers full air conditioning, an overall length of just 8.75m, space for 58 passengers (22 seated), a 200km range on a single charge and many proven 'big bus' features. It has a new frontal appearance which sets the standard for all future BYD ebuses, The Midibus will take BYD into new sectors of the European market and give operators the opportunity to provide emission free transport on routes where BYD's larger models cannot penetrate. (www.chinabuses.org)
Editor:Ida
Related China Bus News