Foton AUV Attends China Smart City International Expo
2017-09-26 Author: Source:www.chinabuses.org
Summarize:From September 22 to 24, the third China Smart City International Expo was held in Shenyang International Exhibition Center Themed with Innovation for Sustained and Healthy Development, this year's expo has attracted a number of well-renowned brands and over 70 cities Foton AUV brought its BJ6851EVCA-1 electric bus and BJ6113 plug-in hybrid intercity bus on display, demonstrating its commitment to helping cities in China go smart
From September 22 to 24, the third China Smart City International Expo was held in Shenyang International Exhibition Center. Themed with Innovation for Sustained and Healthy Development, this year's expo has attracted a number of well-renowned brands and over 70 cities. Foton AUV brought its BJ6851EVCA-1 electric bus and BJ6113 plug-in hybrid intercity bus on display, demonstrating its commitment to helping cities in China go smart.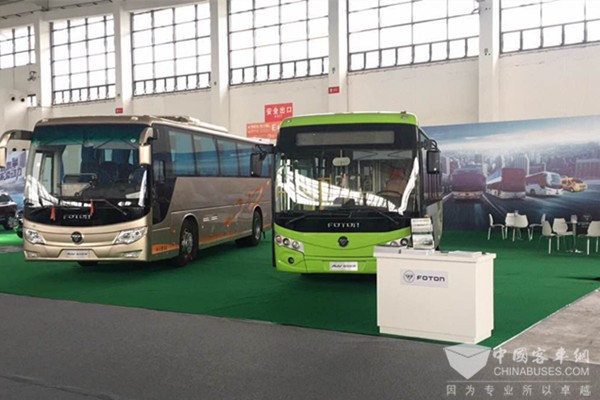 Mainly targeted at the medium and small cities, BJ6851 electric bus measures 8.5 meters in length. Thanks to its elongated wheelbase, the vehicle can load 56-67 passengers. In addition, it can be recharged in both slow and fast recharging mode. When put on the fast recharging mode, the bus can be fully recharged in just 12 to 15 minutes. After being recharged in the fast mode for two to three times, it is able to drive 200-250 kilometers. After being recharged on the slow mode, it can easily meet the daily operation needs. Its batteries, boasting a lifespan of eight to ten years, help bus operators greatly cut their operating costs. Without huge investments on the construction of infrastructure, the bus has gained wide popularity in many cities across China.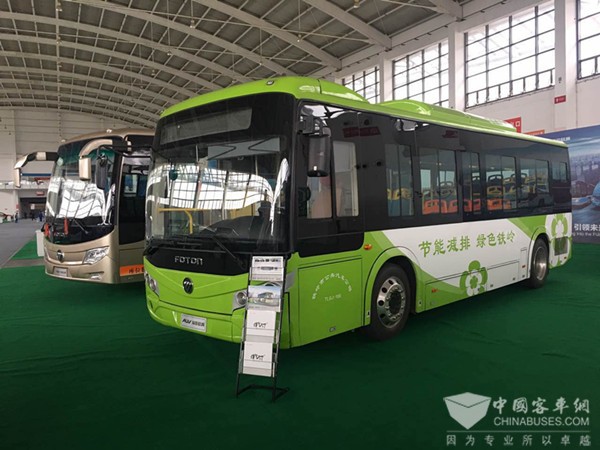 BJ6113 plug-in hybrid intercity bus is ideally suitable for tailor-made urban public transport, commuting services and tourist transport. Achieving high stability, the vehicle works smoothly even at a temperature reaching 60℃. In addition, its clutches and AMT enjoy free repair within stipulated mileage, helping bus operators greatly cut their operating costs.
Equipped with a newly upgraded smart management system, BJ6113 plug-in hybrid intercity bus has pushed the integrated management of vehicles, drivers and environment to a new historical level. Its Wi-Fi, blue-tooth, and USB recharging portals provide more entertainment for passengers on board. So far, the bus has made its way to Urumqi, Beijing, Guangzhou and a number of other cities in China.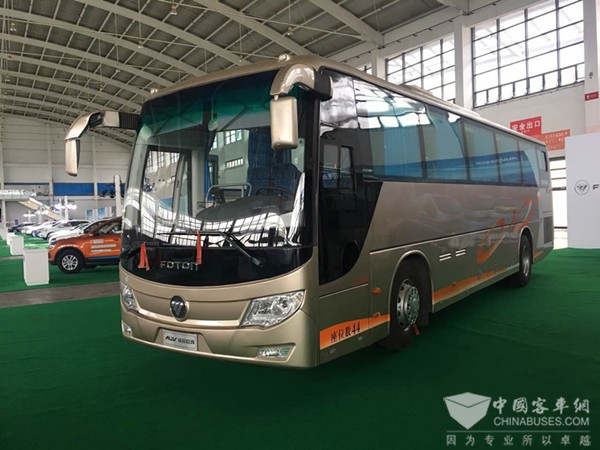 As one of the leading bus makers in China, Foton AUV has always been attaching the paramount importance to developing greener and more energy efficient vehicles for its customers. By rolling out a number of new energy buses and coaches, it has greatly pushed forward the structural transformation and upgrading of China's bus industry. In recent years, Foton AUV electric and hydrogen fueled vehicles have become the new stars in the global market, pointing the way for the future public transport.
So far, over 500 cities across China have been taking concrete measures to cut the emissions of carbon dioxide and combat global warming. Building smart and green cities have become the consensus of governments at all levels in China.(www.chinabuses.org)
Editor:ida
Related China Bus News