Golden Dragon Buses Serve BRICS Summit
2017-09-06 Author: Source:
Summarize:On September 3, the state leaders and representatives of the business community from over ten countries, including Brazil, Russia, India, China and South Africa, gathered in Xiamen, also known as "Egret Island", attending the ninth BRICS Leaders Summit
www.chinabuses.org: On September 3, the state leaders and representatives of the business community from over ten countries, including Brazil, Russia, India, China and South Africa, gathered in Xiamen, also known as "Egret Island", attending the ninth BRICS Leaders Summit.
To provide low-carbon and comfortable transport services for distinguished guests from all over the globe, 201 units Golden Dragon buses have been put into service, including 50 units Kasts serving in the state leaders. V3 and Triumph are also among the Golden Dragon's bus fleet.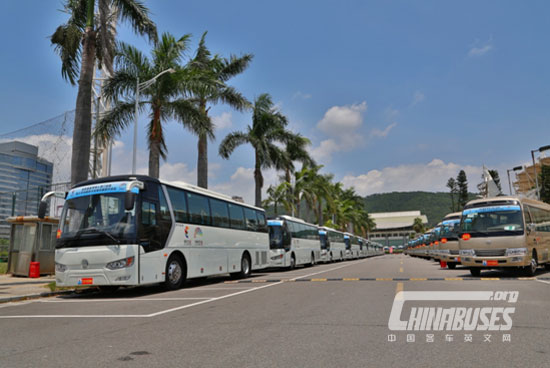 As the leading business coach in China, Kast business premium has already earned a great reputation. Equipped with GE V8 gasoline engine, GE six-speed automatic transmission gearbox, the vehicle achieves strong power performance. Its front independent suspension and front & rear stabilizing rod suspension structure can effectively reduce the vibration on bumpy roads. Also, its NVH plus noise-absorbing materials have cut the interior noise to the minimum. A host of other amenities on board are equally eye-catching, such as its camera, dashboard, ventilation system and dust filtering device.
Triumph is a large-sized luxury coach. It has been acting as the major force in shouldering the transport tasks during the annual NPC and CPPCC sessions. Boasting a streamlined body and a fashionable appearance, the vehicle features a host of state-of-art technologies and creates a home-like traveling experience for passengers.
With high agility, V3 is equipped with integrated LED front lamps. Its glass better protects passengers' privacy. The whole vehicle exudes class, dignity and an air of nobility.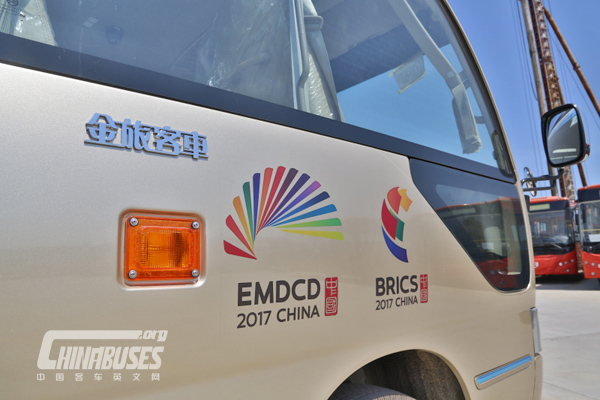 Apart from serving BRICS Summit, 259 units Golden Dragon new energy city buses were put into operation in Xiamen not long ago, making the total number of Golden Dragon new energy city buses working in Xiamen to 1,159 units. All these vehicles have not only greatly enhanced Xiamen's city image among tourists, but also have provided great travel convenience for local citizens.
As one of the leading bus makers in China, Golden Dragon is headquartered in Xiamen, the host city of this year's BRICS Summit. For many years, it has made tremendous contributions to the development of the city's urban public transport. Moreover, it has been designated as the official carrier in a number of high-profile events held in the city.
Editor:ida
Related China Bus News