Foton Zhangjiakou Fuel Cell Vehicle Production Lines Start Operation
2017-08-30 Author: Source:www.chinabuses.org
Summarize:On August 25, a grand ceremony was held in Zhangjiakou to mark the official operation of Foton Zhangjiakou Fuel Cell Vehicle Production Base, which made history by becoming China's first highly automated mass production base for producing fuel cell vehicles
www.chinabuses.org: On August 25, a grand ceremony was held in Zhangjiakou to mark the official operation of Foton Zhangjiakou Fuel Cell Vehicle Production Base, which made history by becoming China's first highly automated mass production base for producing fuel cell vehicles. Ouyang Minggao, Vice Director of China EV100, Hui Jian, Secretary of Zhangjiakou Committee of CPC, Wu Weidong, Mayor of Zhangjiakou, together with 10-plus units Foton AUV 8.5-meter fuel cell buses witnessed the historical moment.
With a total investment of one billion RMB made by Beijing SinoHytec Co., Ltd., Foton Zhangjiakou Fuel Cell Vehicle Production Base covers an area of 45 mu. Its first production line is expected to reach an annual production volume of 2,000 units fuel cell vehicles. Next year when the production base operates in full swing, it will be able to roll out 10,000 units engines for fuel cell vehicles. It has also been revealed that a number of fuel cell vehicles produced at the production base will soon be put into operation in Zhangjiakou, helping the city build its hydrogen-powered eco-friendly economy and serving 2022 Beijing Winter Olympic Games.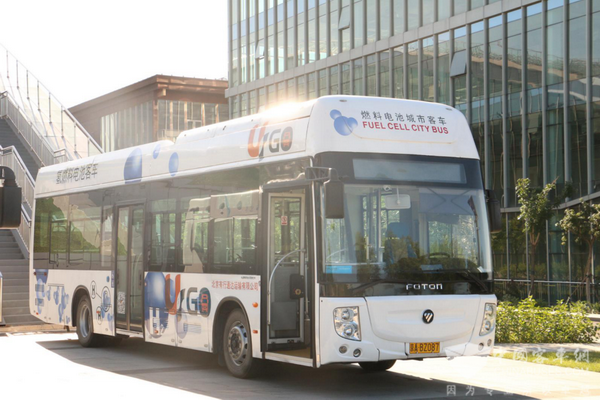 In the past decade, Foton AUV, together with SinoHytec and Tsinghua University have been making concerted efforts to conduct researches on fuel cells in such areas as their performances, reliability, lifespan and costs. As early as 2008, Foton rolled out its first fuel cell bus, which was put into service during Beijing Olympic Games and UN Fuel Cell Vehicle Commercial Operation Project. After many trial operation in the past years, the vehicle finally won commercial orders last year, ushering China's fuel cell bus industry into a new era.
Currently, Foton AUV fuel cell buses, measuring 8.5-meter, 10.5-meter or 12-meter in length, have been widely used in urban public transport, inter-city passenger transport, tourist transport, etc. In UN Fuel Cell Vehicle Commercial Operation Project, Foton AUV fuel cell bus drove over 70,000 kilometers within one year, delivering impressive performances.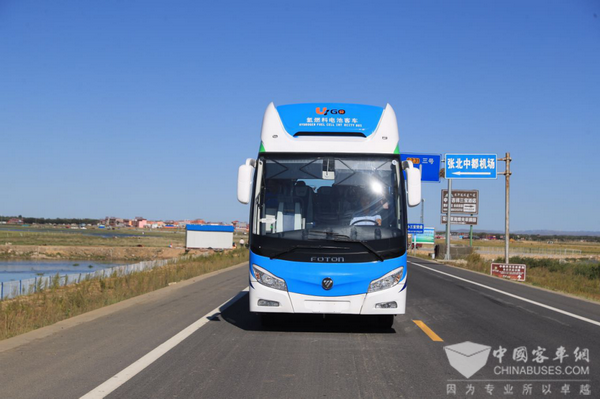 In addition, Foton AUV has set up China Bus Green Development Alliance with a number of enterprises from the upper and lower stream of the industry, aiming to further promote the sound development of the whole industry.
Currently, Foton AUV fuel cell buses equipped with the third generation fuel cell engine made by SinoHytec have already accomplished trial operation. They will soon be put into service so as to make full preparations for the coming 2022 Beijing Olympic Games.
Despite many slopes in Zhangjiakou, Foton AUV fuel cell buses well suit the road and weather conditions in the city. While in operation, they generate little noise, providing unprecedented travel experiences for passengers. Even in -30 degrees, the 8.5-meter Foton AUV fuel cell bus can easily start operation. At -46 degrees, it remains intact.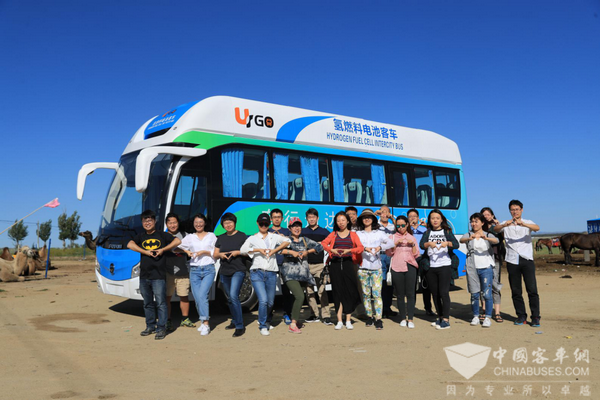 Apart from their huge environmental benefits, Foton AUV fuel cell buses achieve high energy efficiency. Statistics show that they consume only one kilogram (30 RMB/kg) of hydrogen every 100 kilometers. In comparison with the fossil fuel costs (40-50 RMB/100 kilometers) of those traditional vehicles, they are highly competitive.
Editor:ida
Related China Bus News