Sunlong Grew 340.5% in its Revenue From January to June, Taking the Lead in the Industry
2017-07-17 Author: Source:www.chinabuses.org
Summarize:Latest statistics show that China sold 18,782 units buses in June this year, including 2,369 units special vehicles Shanghai Sunlong Bus Co , Ltd (hereafter referred to as Sunlong) delivered impressive performances in a number of areas
www.chinabuses.org: Latest statistics show that China sold 18,782 units buses in June this year, including 2,369 units special vehicles. Shanghai Sunlong Bus Co., Ltd. (hereafter referred to as Sunlong) delivered impressive performances in a number of areas. In June, the bus maker sold 1,074 units buses measuring five meters in length and above, up by 416% year on year. Its growth rate ranked the first place in the industry. From January to June, Sunlong's sales volume stood at 1,648 units and the company's business revenue stood at 1.13 billion RMB, up by 340.5% year on year. Thus, Sunlong successfully edged its way to the Top Eight Bus Makers in China.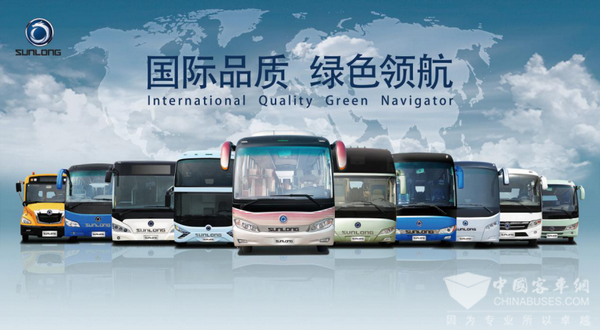 In recent years, Sunlong has been making all efforts to promote new energy buses, which have significantly contributed to its overall sales.
In 2016, Sunlong ranked among the Top Ten Bus Makers in China. So far, it has established a visible presence in many places across China except Tibet and Qinghai. More impressively, its export volume has been staying among the Top Five in China. Its buses have made their way to many countries in Asia, Africa and South America.
On June 20, Sunlong signed an investment agreement for building new energy vehicle production base with Nanning Municipal Government in Guangxi Zhuang Autonomous Region. With a total investment of three billion RMB, the new energy vehicle production base is located in Yongning Industrial Park. After the completion of its construction, it will be able to roll out 10,000 units new energy buses and 30,000 units new energy logistic vehicles each year.
In March this year, Tunghsu Optoelectronic (000413.SZ) acquired 100% equities of Sunlong with three billion RMB. As one of the leading suppliers of high-end equipment and display materials, Tunghsu Optoelectronic considers the acquisition of Sunlong a strategic move for its future development.
"In the next three to five years, Sunlong will continue to diversify its product line and strengthen its overall competitiveness in the global bus industry", says Chen Dacheng, president of Sunlong.
Editor:rachel
Related China Bus News