Dongfeng Cummins Committed to Building Green Engines
2017-07-13 Author: Source:www.chinabuses.org
Summarize:From the initial B series engines to the current state-of-art engines which meet National VI Emission Standards, Dongfeng Cummins has put the improvement of its products' environmental friendliness as its top priority
www.chinabuses.org: On January 29, 1886, a single cylinder engine developed by Carl Benz was mounted on the first three-wheel car, ushering the world into the automobile era. Since then, automobiles have brought people much closer. However, the rising number of vehicles around the globe has increasingly become a pressing concern due to the severe urban pollution caused by vehicles.
The U.S.-based Cummins, committed to building better life for people, established strategic cooperative ties with Dongfeng in 1986. Soon, Cummins introduced its B series engines to China. In 1996, Dongfeng Automobile Co., Ltd. and Cummins jointly set up Dongfeng Cummins Engine Co., Ltd. (hereafter referred to as Dongfeng Cummins) For more than two decades, Dongfeng Cummins has been developing and manufacturing environmentally-friendly engines, which are strictly in line with the national emission standards.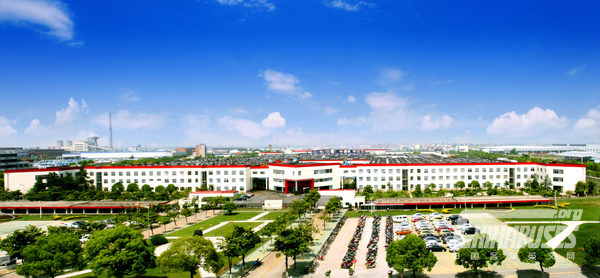 Dongfeng Cummins Plant
Engines are known as the heart of vehicles. From the initial B series engines to the current state-of-art engines which meet National VI Emission Standards, Dongfeng Cummins has put the improvement of its products' environmental friendliness as its top priority. With "building better life for people" as its philosophy, the company believes that "better life for people" first and foremost means "green lifestyle". Thus, to Dongfeng Cummins, an engine simply boasting strong power can hardly be considered a good engine if it fails to meet environmentally friendly standards.
Many people may have the impression that diesel engines consume a lot of fuel, generates a lot of pollutants and noise. To change people's view, Dongfeng Cummins launched "Green Diesel Engine Promotion Plan" in 2002. Through learning from its international counterparts and independent technological innovation, Dongfeng Cummins diesel engines have gradually brought some fresh air to the diesel engine making industry in China.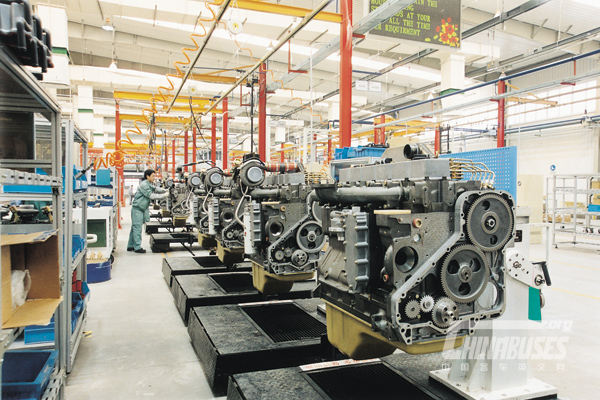 Dongfeng Cummins Assembly Line
While keeping itself in sync with its international counterparts, especial those engine makers in Europe and the USA, Dongfeng Cummins has made significant contributions to China's heavy-duty engine industry. Its engine products, featuring high fuel economy, strong power, high reliability, long durability and high environmental friendliness, have long been widely recognized by customers from both home and abroad.
Recycling is another key concept in environmental protection. Dongfeng Cummins came up with re-manufacturing technology, unleashing great vitality from their production facilities. Re-manufacturing technology has become an important move for China's drive to build an energy-saving and environmentally friendly society. According to the statistics released by China Association of Automobile Manufacturers (CAAM), a newly built engine requires ten times as much energy compared with a re-manufactured one.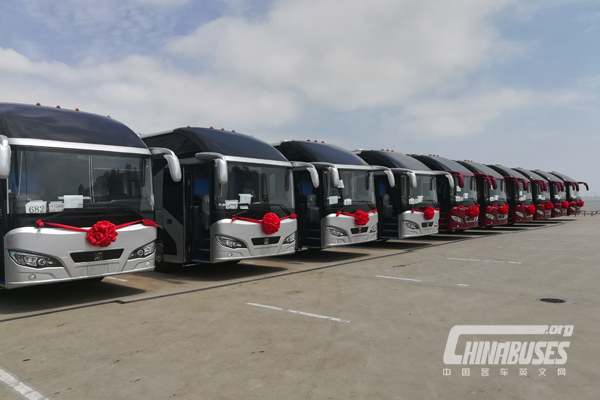 Sunwin buses equipped with Dongfeng Cummins engines
Apart from developing and building green products, Dongfeng Cummins is also well aware of the importance of the environmentally friendly production procedures. Thus, just a glance of its production areas and its production lines will clearly demonstrate the company's emphasis on green development in its corporate culture from the very bottom to the very top.
Dongfeng Cummins believes that not only the governments and individuals, enterprises should also shoulder their due responsibility in combating global warming and conserving energy. In 2004, it officially established "Dongfeng Cummins Public Welfare Committee", which has carried out a number of activities calling for more people to take actions to protect our environment, such as planting trees and Car-free Day.
Editor:rachel
Related China Bus News