BYD Signs Cooperation Agreement with Chile's Federico Santa María Technical University
2017-07-13 Author: Source:www.chinabuses.org
Summarize:BYD and Chile's Federico Santa María Technical University (USM), a specialist in electric mobility technology, have recently signed a mutual cooperation agreement for the training of teachers and students in the electric vehicles technology developed by BYD, as well as the promotion of new research on electric mobility
www.chinabuses.org: New energy Technology Company BYD and Chile's Federico Santa María Technical University (USM), a specialist in electric mobility technology, have recently signed a mutual cooperation agreement for the training of teachers and students in the electric vehicles technology developed by BYD, as well as the promotion of new research on electric mobility. The agreement was signed by the Stella Li, BYD's Senior Vice President, and Eugenio González, the university's Academic Vice-rector.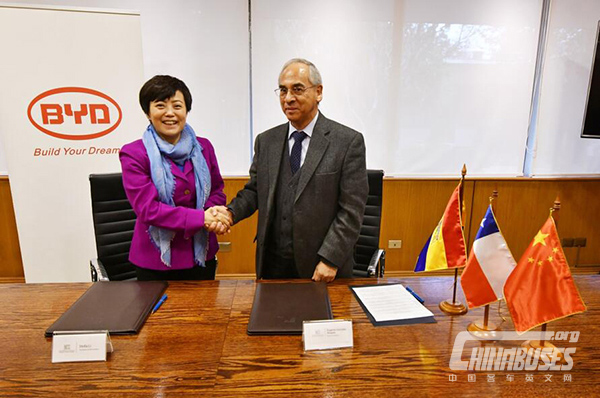 Stella Li, BYD's Senior Vice President, and Eugenio González, Academic Vice-rector of University Federico Santa María
This agreement aims at generating local capacities that support the insertion of electrical technology in Chile by providing local engineers with technical know-how in electric vehicle technology, which is projected to happen by the end of 2017.
The agreement also responds to the call from authorities to train and generate local skilled labor in order to provide high expertise in maintenance and support, as a response to the new requirements resulting from the insertion of electric vehicles in the country's public transportation system. In addition, the agreement includes implementing BYD electric buses for inner campus transportation, which will be launched during this year.
Editor:rachel
Related China Bus News