Yinlong Set to Make Big Splashes in Electric Logistic Vehicle Market
2017-07-10 Author: Source:www.chinabuses.org
Summarize:Zhuhai Yinlong New Energy Co , Ltd Has recently announced its development plan in the new energy logistic vehicle market after gaining a strong foothold in China's new energy bus market
www.chinabuses.org: ON May 4, 2017, Jingdong, also known as JD revealed that the company would replace over 10,000 units logistic vehicles with electric ones. On May 22, Cainiao.com released its ACE Future Green Smart Logistic Plan, aiming to build one million new energy logistic vehicles equipped with Cainiao smart technologies. Dishangtie, Bapima and Caochaohuo, three emerging players in China's logistic industry, also announced that they will jointly introduce 25,000 units electric logistic vehicles this year.
Statistics show that China's production volume of electric logistic vehicles in 2016 reached 60,000 units in 2016, up by 36.36% year on year. This year, the production volume of such type of vehicles is supposedly to rise to 100,000 units. Along with the fast growing logistic market in China, the demand for electric logistic vehicles is expected to rise to three million units in the near future.
Eyeing the huge market, Zhuhai Yinlong New Energy Co., Ltd. Has recently announced its development plan in the new energy logistic vehicle market after gaining a strong foothold in China's new energy bus market.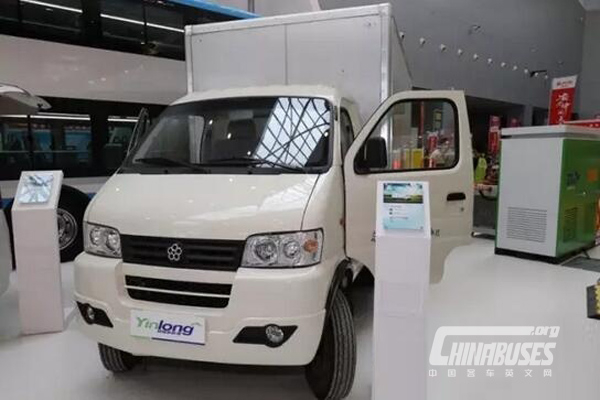 Electric logistic vehicles are an indispensable part for future green logistic services. Currently, power batteries usually do not have a satisfactory lifespan, their maintenance costs are usually high and their safety standards are still not high enough. Facing all these problems, Yinlong has rolled out its own solutions, lithium titanate batteries which can be repeatedly used for 30,000 times and can endure a wide temperature range from -50℃ to +60℃. Moreover, the batteries can be recharged in just six to ten minutes, according to Liu Jinsong, General Manager of Marketing Department of Yinlong New Energy.
In later this year, Yinlong's production lines for lithium titanate batteries in Tianjin and Chengdu will be put into operation. This will drive the costs of batteries for electric vehicles even lower.
Apart from its technological breakthroughs, Yinlong has been making all efforts to increase its production capacity. Its battery production base in Chengdu, with a total investment of 1o billion RMB, is scheduled to open soon. After its operation, it is able to produce one billion Ah lithium titanate batteries and 15,000 units buses each year. Its new energy vehicle production base in Lanzhou, started construction on May 3 this year, will soon be able to manufacture electric business vehicles, SUVs, logistic vehicles, sanitary vehicles, engineering vehicles and postal service vehicles.
To further promote its new energy products, Yinlong is now pursuing a new cooperation mode which features New Energy + Internet + Finance, turning industrial products into financial products and giving commercial vehicle operators more maneuvering power. With its own financial platform, it creates win-win situations for all parties involved.
Editor:
Related China Bus News