Yuchai's Brand Value Exceeds RMB 30 Billion
2017-07-03 Author: Source:www.chinabuses.org
Summarize:On June 22, the World Brand Lab released 2017 ranking list of China's 500 Most Valuable Brands in Beijing Yuchai ranks No 103 on the list and its brand value has raised to RMB 34,596,000,000 from RMB 28,195,000,000 in 2016, exceeding RMB 30 billion for the first time on record
www.chinabuses.org: On June 22, the World Brand Lab released 2017 ranking list of China's 500 Most Valuable Brands in Beijing. Yuchai ranks No.103 on the list and its brand value has raised to RMB 34,596,000,000 from RMB 28,195,000,000 in 2016, exceeding RMB 30 billion for the first time on record.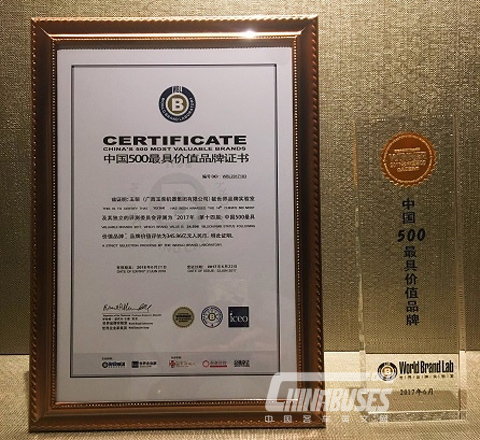 Since Yuchai entered the ranking list in 2006, Yuchai, with ever-increasing brand value, has been a frontrunner in the industry for 12 consecutive years and ranks 1st among the enterprises in Guangxi.
In recent years, downward pressure on the economy at home has been mounting, and it is inevitable to adjust the industrial structure. As a representative of the internal combustion engine industry, Yuchai, adhering to the business policy of "being revolutionary and innovative, laying a more solid bedrock, and improving quality and efficiency", propels the transformation and upgrading of Yuchai by means of "second startup", and gives a full play to the core competitiveness of three major sectors and three major service platforms. From this, Yuchai, by virtue of its more competitive products and more influential brand, sees an innovative development.
Yuchai has been successively awarded a range of national prizes, including "National User Satisfaction Product", "China Top Brand", "National User Satisfaction Enterprise", "China's Top 10 Integrity Enterprises", "China Quality Award", "National Civilized Unit", "China Famous Trademark" and "100-year Achievement Award for the Industry of Internal Combustion Engine". With these awards of high value, Yuchai enjoys a superb reputation in the industry.
Editor:rachel
Related China Bus News