Golden Dragon Driverless Bus Makes its Debut in Shanghai
2017-06-16 Author: Source:www.chinabuses.org
Summarize:On June 7, Golden Dragon's driver-less bus made its debut in Shanghai Jiading International Automobile City Witnessed by a large group of curious journalists from various media, the vehicle successfully finished its two-kilometer trial operation, showcasing its full competence in automatic driving
www.chinabuses.org: On June 7, Golden Dragon's driver-less bus made its debut in Shanghai Jiading International Automobile City. Witnessed by a large group of curious journalists from various media, the vehicle successfully finished its two-kilometer trial operation, showcasing its full competence in automatic driving.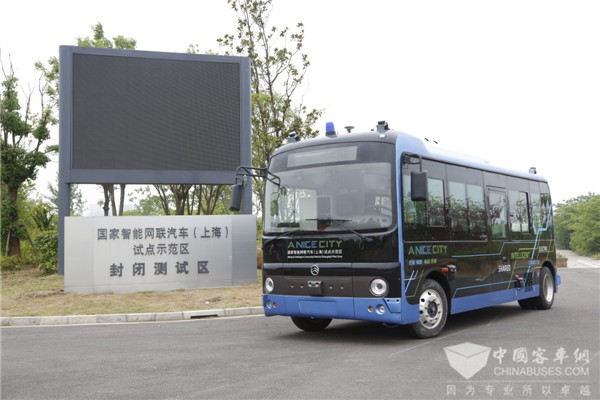 As the only intelligent connected bus at the Intelligent and Connected Vehicle Demonstration which was held to mark the one year anniversary of Shanghai Jiading International Automobile City, Golden Dragon has shown its formidable strengths in the automatic driving industry.
At the end of 2016, Golden Dragon officially rolled out a 6.2-meter light bus. Equipped with a number of state-of-art technologies, such as ACC, AEBS, automatic steering system, laser radar, and omni-directional camera, the vehicle uses electricity as its only source of power and is able to automatically control its operations in response to various working environment. When conditions are allowed, it can realize full automatic driving.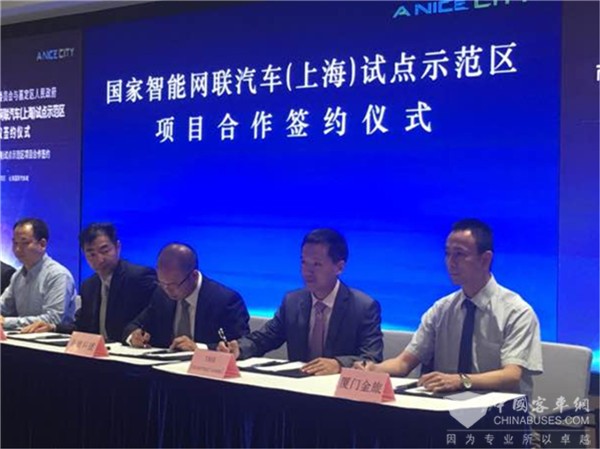 Golden Dragon started cooperation with Shanghai International Automobile City just a few years ago. Seeing the great market potential of the automatic driving market, the two parties have been jointly developing driver-less buses. "Golden Dragon boasts developed well tested electric drive systems and intelligent vehicle technologies, which are very essential for our cooperation", says Dr. Li Lin, Director of Strategic Business Planning Department of Shanghai International Automobile City (Group) Co., Ltd.
Given the anemic fossil-fueled bus market, Developing driver-less bus is undoubtedly a great opportunity for Golden Dragon to realize its business transformation. "Like smart phones, the competitiveness of future vehicles is chiefly determined by their functions and systems instead of their hardware. It is reasonable to predict that future driver-less vehicles will realize highly integrated level of their electric drive, internet, intelligent technologies and sharing", according to Dr. Li.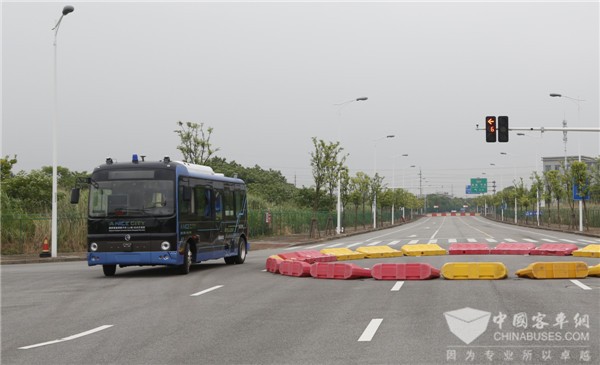 China Industry Technology Innovation Strategic Alliance for the Intelligent and Connected Vehicles (CAICV), which was also formed last year, boasts over 1000 members. Among them, Golden Dragon is hoping to promote the development of intelligent connected buses through working with other research institutions, universities, and enterprises.
A survey conducted by NHTSA shows that 94% traffic accidents across the world are chiefly caused by humans. Given this, driver-less technology has long been considered as the Holy Grail in the auto industry in the 21st century. In recent years, driver-less technology has become increasingly visible among the public. Developed countries have all been making an all-out effort to apply it on vehicles. China, as an emerging economy, also attaches strategic importance to developing such new technology so as to compete on the international market.
A new revolution is brewing in the world automobile industry. Traditional auto makers and businesses in the virtual world are all working hard to gain a head start. Some expert estimates that driver-less commercial buses will hit the market in 2019 at the latest and driver-less passenger cars will also appear as early as 2025.
National Intelligent Connected Vehicle (Shanghai) Pilot Zone, which started its official operation one year ago, has received 15,000 visitors from all over the world. In just one year, it has become an important window for people to learn the latest trends in the global intelligent connected vehicle industry.
Along with the development of a host of smart technologies, what once appeared in Sci-Fi movies will soon become a reality. Driver-less buses are expected to become an important part of people's lives apart from their home and workplace. With their potential safety hazards cut to the minimum, these new vehicles will become a new place where people get to socialize and work as well as get rested and entertained.
Editor:
Related China Bus News