Dongfeng Cummins: Taking China Buses Further on Belt and Road
2017-05-24 Author: Source:
Summarize:On May 20, a grand ceremony was held at Shanghai Haitong Port to mark the delivery of 122 units Sunwin SWB6120A luxury coaches to their customer in Saudi Arabia Soon, another batch of 300 units Sunwin school buses measuring ten meters in length will be exported to UAE
www.chinabuses.org: On May 20, a grand ceremony was held at Shanghai Haitong Port to mark the delivery of 122 units Sunwin SWB6120A luxury coaches to their customer in Saudi Arabia. Soon, another batch of 300 units Sunwin school buses measuring ten meters in length will be exported to UAE.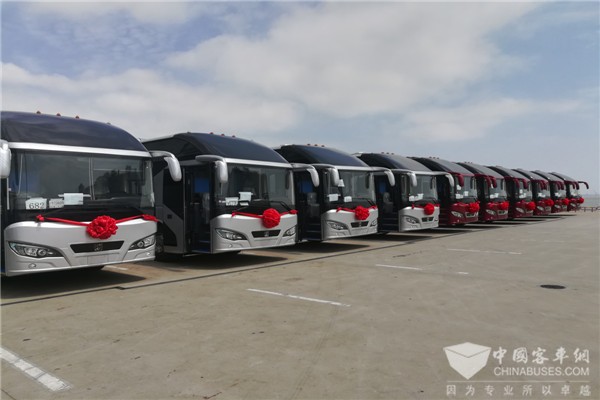 Sunwin Buses Poised for Delivery
The two deliveries are particularly significant considering all the vehicles are manufactured by Sunwin, a joint venture co-funded by SAIC and Sweden-based Volvo. In addition, all the key components on these vehicles are made by several well recognized international brands based in China, including Dongfeng Cummins Engine Co., Ltd., ZF Drivetech (Suzhou) Co., Ltd., Actia (Shanghai) Auto Electronic Equipment Co., Ltd., Dongfeng Dana Axle Co., Ltd.
Among these companies, Dongfeng Cummins Engine Co., Ltd. manufactured all the engines for the 422 units Sunwin buses. Specifically, the 122 units luxury coaches SWB6120A are equipped with Dongfeng Cummins ISLe 8.9 liter engines and the 300 units school buses are all mounted with Dongfeng Cummins ISD6.7 liter engines. According to the engine maker, the former is chiefly targeted at the large- and medium-sized buses, especially for the 12-meter buses. Moreover, it only requires maintenance every 20,000 kilometers whole most engines need maintaining every 5,000 kilometers. Thanks to their high reliability and high fuel economy, both engines have long won the widespread recognition among bus makers and bus operators from both home and abroad.

Sunwin buses are being shipped for export overseas
"We started cooperation with Sunwin in 2006 when 1,400 units Dongfeng Cummins engines were delivered to the bus maker for its vehicles latter put into service in Shanghai Bus Group", says Liu Mansi, an engineer from the Bus Business Department of Dongfeng Cummins. Dongfeng Cummins has long become a well-known engine brand in the international market. Moreover, it has established well-connected after-sales networks across the globe. For these reasons, Sunwin has been in close cooperative ties with the engine maker for over a decade.
Apart from its international fame and strong technical supports, Dongfeng Cummins also sends its sales staff abroad to offer training sessions for Sunwin's customers. Its overseas service stations also make sure they have all spare parts available to meet bus operators needs.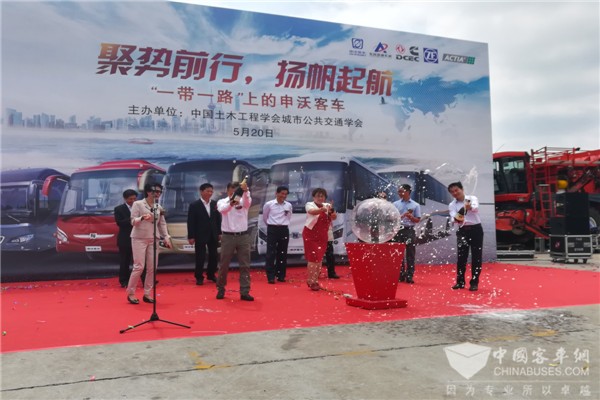 Sunwin Bus Delivery Cerenomy
Sunwin began its overseas expansion in 2011. It entered UAE in 2014 and every year, about 500-700 units school buses equipped with Dongfeng Cummins ISDe6.7 liter engine were exported to the country. Currently, the majority of Sunwin buses delivered to the overseas market are equipped with engines made by Dongfeng Cummins and they have made their way to North America, Central and South America, Africa, the Middle East, India, Pakistan, Hong Kong, Macao and Taiwan.
So far, Dongfeng Cummins engines have reached over 100 countries in the world and they have become an important channel for overseas customers to reshape their views about products made in China, according to Lei Yunqing, Deputy General Manager of the Marketing Department of Dongfeng Cummins.
Editor:
Related China Bus News