Bus & Truck Expo 2017 - New Energy: Chance and Challenge to Sunwin Development
2017-05-24 Source:www.chinatrucks.com
Summarize:2017 Beijing international exhibition on buses, trucks and components will be held from May 24 to May 26 in Beijing Exhibition Center Sunwin this time presented latest developed platform products SWB6868BEV05 and SWB6128BEV01, looking forward to an enjoy of advanced bus technology, brand new driving experience and design concept for audiences
www.chinabuses.org: 2017 Beijing international exhibition on buses, trucks and components will be held from May 24 to May 26 in Beijing Exhibition Center. The subject of this exhibition is "New Energy: Chance and Challenge to Bus Development", focusing on latest global bus technology development trend, intensively displaying bus and parts related with new energy, energy conservation and emission reduction. The exhibition is also an important platform of bus industry new technology and new direction communication. Therefore, Sunwin this time presented latest developed platform products SWB6868BEV05 and SWB6128BEV01, looking forward to an enjoy of advanced bus technology, brand new driving experience and design concept for audiences.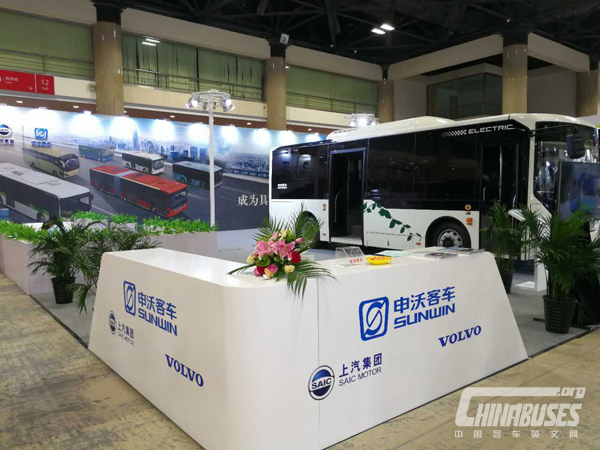 Sunwin booth at 2017 Beijing international exhibition on buses, trucks and components
On the way to new energy bus development, Sunwin keeps progressing in an advanced status. Such as 2008 low floor super capacitor city bus, 2010 Shanghai World Expo 10 units of fuel cell buses……Sunwin always brings surprise to passengers with advanced technology. Specializing for electric bus technical difficulties, Sunwin will provide various solutions to meet different demands. For example, the two buses at exhibition: to provide HV safety guarantee (HV parts interlock function), fully monocoque body structure and brake priority function. There are also thoughtful designs for operators, in order to lower operation cost and enhance bus value. The motor can be used for more than 10 years, meanwhile waterproof level reaches IP67; wading depth 0.5m. Aluminum alloy body reduces vehicle weight and improves anti-corrosion ability, also guarantees more than 10 years.
These two models are created based on Sunwin new platform. They are optimized and upgraded products of Sunwin 1st generation electric bus which already had received wide acclaim. While inheriting a lot of advantages of 1st generation, they made below improvement and optimization:
(1) For powertrain system optimize and complete control strategy, further improve power, comfortability and economy;
(2) Adopt CATL new generation high energy iron phosphate lithium battery, compared with previous generation, volume shrink a lot, so that passenger compartment space gets optimized;
(3) Also upgraded upholstery , integrated more modern element and line, improved appearance grade.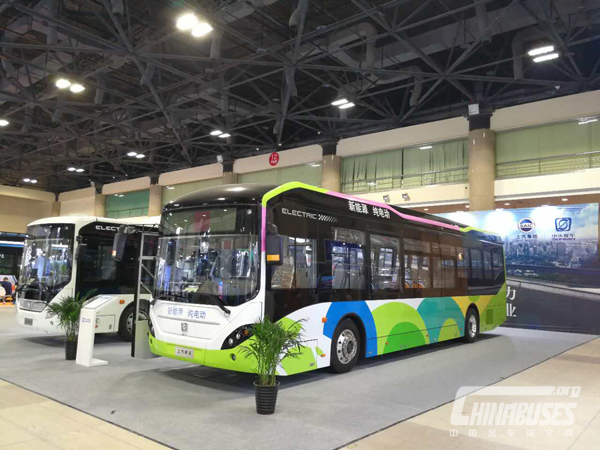 Sunwin Buses on Show
In recent years, under national policy support, Sunwin is continuously improving R&D level based on SAIC and VOLVO technical platform. From market research, product development to industrialization path, Sunwin makes different adjustment on product performance, function, cost and operation details from customer's viewpoint. Products always look advanced in bus industry; moreover every product brings value for customers. The two models in this exhibition show our sincerity. We will inherit the value of honesty, responsibility, cooperation, innovation, improvement and dream, strive to become bus manufacturer with worldwide competitiveness, innovate products and service, create value for society and achieve sustainable improvement.
Editor:
Related China Bus News